Pros
No fees
Cash back accrues daily
Up to 3% cash back on purchases
Cons
Requires Apple Pay and Apple hardware
Low cash back on non-Apple purchases
No sign-up bonus
Apple Card immodestly claims to "completely [rethink] everything about the credit card." Is it correct? Maybe.
Backed by the Mastercard network, Apple Card certainly has a host of innovative features that old-fashioned credit cards don't, such as daily cash back and numberless physical cards. And it's a harbinger of the cashless, contactless payments landscape to come. No serious observer can dispute that Apple Card is ahead of its time.
But any product that's truly ahead of its time must also be competitive in the present. And beyond its novel features, Apple Card works pretty much like any other credit card. Indeed, in spite — or perhaps because — of its novel additions, it lacks some consumer-friendly features common to other popular cash-back cards and general-purpose rewards cards.
Here's a closer look at what sets Apple Card apart, and how it stacks up against the best credit cards on the market.
Things to Keep in Mind About the Apple Credit Card
Before we dive into Apple Card's details, three points bear mentioning.
First, although cardholders who don't pay their statement balances in full each month are subject to interest charges that vary with their creditworthiness and prevailing benchmark rates, Apple Card charges none of the fees typically levied by credit card companies: no annual fee, no late fee, and no over-limit fee.
Second, Apple Card is designed to work with Apple Pay, which runs on Apple (Mac) hardware only. If you're one of the many millions of iPhone users in the United States, this card is for you. If you're an Android loyalist, you're out of luck.
Third, Apple Card has a slightly unorthodox application process that doesn't impact your credit score until you've accepted the offer (if approved). If you decide not to follow through with getting an Apple Card after applying, or your application isn't approved, your credit score won't decline as a result of your inquiry.
---
Key Features of the Apple Card
Here's a closer look at Apple Card's most notable features.
Earning Cash Back
Apple Card has a three-tiered cash-back program:
3% Cash Back. All purchases from Apple earn unlimited 3% cash back. These include, but are not limited to, purchases from Apple.com, physical Apple Stores, the iTunes Store, the App Store, and in-app purchases. Certain non-Apple purchases made using Apple Pay earn 3% cash-back rewards as well.
2% Cash Back. All other purchases made using Apple Pay (including through your Apple phone or Apple Watch) earn unlimited 2% cash back. Hundreds of major retailer chains and brands, encompassing more than 2 million individual merchant locations online and off, accept Apple Pay. These include but aren't limited to Walgreens, Nike, Uber Eats, Duane Reade, Amazon, and thousands of gas stations. If you're not familiar with how Apple Pay works, see Apple's site for details.
1% Cash Back. Purchases — online, offline, and in-app — made with merchants that don't accept Apple Pay earn an unlimited 1% cash back.
Redeeming Cash Back
Cash back earned through Apple Card purchases accrues daily. Each day a purchase posts to your account, you'll receive the requisite cash back on your Apple Pay Cash card in the Apple Wallet app.
From there, you can use it to pay for purchases within or without the Apple ecosystem or to make payments on your Apple Card balance.
If you don't have an Apple Pay Cash card and aren't interested in getting one, you must accept cash back earned to your Apple Card via statement credits, which may not be much of a sacrifice.
Apple Pay Integration
Apple Card is essentially an offshoot of Apple Wallet and Apple Cash. It's designed for use in conjunction with Apple Pay — or, more specifically, as the user's default Apple Pay payment method. Apple clearly expects most Apple Card transactions to be contactless, executed through a Web portal or with the tap of an iPhone.
Beyond Apple Card's novelty as a truly "contactless first" credit card, users benefit from Apple Pay's stringent security features. These include:
Unique Device Number. Your Apple Card is issued with a unique number that's stored in your iPhone's Secure Element, the secure microchip that hosts the phone's most sensitive functions.
Two-Factor Purchasing. Every purchase requires your unique device number, plus a unique one-time code generated on the spot.
Purchase Authorization Via Face ID or Touch ID. This renders stolen phones all but useless for making purchases.
Apple Card also takes data security seriously. Apple and Goldman Sachs, the card's issuer, vow never to share customer data with third parties. Only Goldman Sachs has access to users' transaction histories and personal information.
Physical Credit Card
Apple Card isn't 100% virtual. The physical Apple Card is a titanium card that looks and feels just like any other premium credit card, except that it's much sleeker. The card face is a minimalist triumph, with no cardholder name, card number, or CVV and virtually no marks to mar its metallic hue.
Apple and Goldman Sachs tout the security benefits of Apple Card's featurelessness. Without any information to identify the card, it's useless in the wrong hands.
Real-Time Fraud Protection
Apple Card's real-time fraud protection feature notifies you every time your card is used to make a purchase. If something doesn't seem right about a transaction, or you know for a fact that you didn't make it, you can immediately initiate the dispute process by tapping the notification.
Purchase Organization and Mapping
Apple Card automatically organizes purchases by purchase category — entertainment, food and drinks, and so on — and by merchant. Categories are color-coded for easy visualization and totaled monthly for easy budgeting. With features like that, who needs a paid budgeting app?
Apple Card also automatically maps purchases, showing you where you've spent money recently, literally. If a real-time fraud protection notification slips your notice, seeing a purchase in a city you've never visited will catch your attention.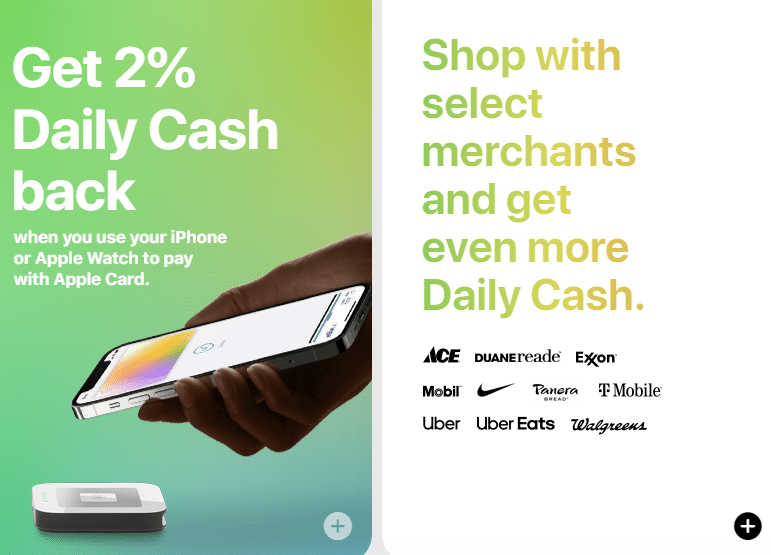 Spending Summaries
Apple Card's spending summaries, visible in the Wallet app, reveal how much you're spending, and on what, in any given week or month. You can view spending trends over time here too, which comes in handy for the periodic budget reviews you should be doing.
Payment Due Dates and Frequency
By default, Apple Card statements are due at the end of the month. If you prefer to pay balances more frequently — and reduce interest charges when you can't pay off your balance in full before the statement due date — you can set weekly or biweekly payments too.
Interest Calculator
Apple Card's built-in interest calculator automatically tallies expected interest charges when you pay less than the full balance due on your card before the end of the grace period.
Credit card issuers are required to reveal on each statement the true cost of making only the minimum payment due in comparison with at least one larger monthly payment.
However, this is a far more robust and interactive interest calculator that's significantly more likely to nudge you to boost your monthly payment.
Interest-Reduction Suggestions
If the interest calculator isn't enough, Apple Card also provides "smart payment suggestions" that encourage cardholders to increase their monthly payments, thereby decreasing their total interest liability.
It's not clear how Apple Card arrives at these suggestions, but they appear to be based on cardholders' spending patterns and payment history.
Interest-Free Installment Payments
Apple Card offers interest-free monthly installment payments for select Apple products purchased through the company's sales channels. You can easily see the size of your installments and how much you have left to pay in the app.
Text-Based Support
Apple Card has a text-based support system that's available 24/7. If you run into an issue with the card or have a question that doesn't concern a disputed charge — which you can handle through the real-time fraud protection interface — this is your ticket to a resolution.
Important Fees
Apple Card charges no fees to cardholders: no foreign transaction fees, balance transfer fees, or annual fees.
Advantages of Apple Card
These are among Apple Card's principal advantages.
No Fees. Apple Card doesn't charge any fees to cardholders. This makes it all but unique, as even avowedly low-fee cards assess fees for less common occurrences such as late and returned payments.
Cash Back Accrues Daily. Apple Card is among the only widely available credit cards to accrue cash back on a daily basis, rather than at the end of the statement cycle. Although the accrual frequency doesn't affect net cash-back earnings or cash-back earning rates, it's certainly nice to see your spending subsidized in near-real-time.
3% Cash Back on Apple Purchases. This card earns 3% cash back on virtually all purchases within the Apple ecosystem, excluding purchases with Apple Pay merchants. This 3% category covers, but isn't limited to, purchases at Apple.com, physical Apple stores, the iTunes Store, the App Store, and in-app purchases.
2% Cash Back on Apple Pay Purchases. Apple Card also earns 2% cash back on purchases made with Apple Pay merchants. So if you're able to limit your spending to the Apple and Apple Pay ecosystems, you'll net somewhere north of 2% cash back on this no-annual-fee card, depending on your exact spending mix.
Above-Average Security Features. Apple Card is more secure than your average credit card. The physical card doesn't have a card number or CVV, so you won't have to worry about what could happen between the moment you lose your card and the moment you freeze your account. The virtual card is denoted by a unique device number (basically a second, ever-changing credit card number) locked away in your iPhone's Secure Element, far from prying eyes.
Real-Time Fraud Protection. Apple Card has another security feature worth touting: real-time fraud protection that alerts you whenever your card is used to make a purchase and lets you flag potentially fraudulent transactions with a single tap. Compared with the traditional dispute resolution process, this is a snap, even when flagged charges turn out to be legitimate.
Easy, Flexible Payments. Apple Card's default payment due date — the last day of the month — is easy to remember, even without the helpful reminders. If you're trying to budget on an irregular income and prefer not to wait until the end of the month to pay off your entire balance, Apple Card's customized weekly and biweekly payment intervals have you covered.
Interest-Reduction Features. Apple Card's interest calculator and interest-reduction suggestions are classic examples of "nudge" theory in action. By revealing just how much you'll save over time by paying a little more upfront, these features nudge you to make smart financial decisions.
Useful Budgeting and Spending Control Features. With so many budgeting and spending control features, Apple Card feels like a personal budgeting suite with a spending aid built in. Maybe that's the point. Although most small-business credit cards have basic expense tracking and reporting features, Apple Card's package is unusually robust for a consumer credit card.
Text-Based Customer Support. Apple Card's text-based customer support is a low-friction alternative to menu-laden, over-automated phone support and unpredictable email support.
No Penalty Interest Charges. Apple Card doesn't charge penalty interest. While it's best never to find yourself in a position where penalty interest would apply, the assurance that you won't be unduly penalized for a lapse beyond your control is certainly welcome.
---
Disadvantages of Apple Card
Consider these potential disadvantages before applying for Apple Card.
Requires Apple Pay and Apple Hardware. Apple Card's biggest drawback is its exclusivity. The card requires Apple Pay, which runs exclusively on Apple hardware, meaning it's not appropriate for Android or Windows device users. If you're set on applying for Apple Card but don't have an iPhone or other compatible Apple device, Apple Watch is your most cost-effective option. Apple Pay runs on Apple Watch just fine, and you can pick up refurbished older versions — Series 1, 2, and 3 — for less than $100.
Only 1% Cash Back on Non-Apple Pay Purchases. Apple Card earns just 1% cash back on non-Apple Pay purchases. If your daily, weekly, and monthly consumption habits involve merchants that mostly accept Apple Pay, you shouldn't have trouble earning the higher 2% cash-back rate, but not all merchants do. Square has a non-exhaustive list of major merchants that do accept Apple Pay. Do yourself a favor and review it before applying for this card.
No Sign-Up Bonus. Apple Card doesn't have a sign-up bonus. While this is subject to change at any time in the future, it's worth noting in the here and now. Many competing cards, including popular cash-back cards, either offer bonuses for early spending or intro APR periods for purchases or balance transfers (or both).
How Apple Card Stacks Up
Apple Card is the only card designed specifically for Apple fans. But it's certainly not the only cash-back credit card on the market.
Let's see how it stacks up against another popular cash-back card with tiered rewards: the Citi Custom Cash Card.
| | | |
| --- | --- | --- |
| | Apple Card | Citi Custom Cash Card |
| Cash-Back Rate | 3% on eligible Apple purchases2% on Apple Pay purchases1% on everything else | 5% on your top monthly spending category1% on everything else |
| 0% APR Promotion | None | 15 months on purchases and balance transfers |
| Sign-up Bonus | None | $200 after you spend $750 in the first 3 months |
| Automatic Redemption? | Yes | No |
---
Final Word
If you're a committed Apple Pay user with the hardware to back it up — an iPhone, Apple Watch, or maybe an iPad — then it might make sense for you to ditch your traditional credit cards and go all-in on Apple Card.
Users who restrict their spending only to Apple Pay merchants stand to earn 2% cash back across the board, about as good as it gets on a consistent basis for premium cash-back credit cards. To do better than that, you'll need to upgrade to a premium travel rewards credit card with a hefty annual fee.
Pros
No fees
Cash back accrues daily
Up to 3% cash back on purchases
Cons
Requires Apple Pay and Apple hardware
Low cash back on non-Apple purchases
No sign-up bonus
Editorial Note: The editorial content on this page is not provided by any bank, credit card issuer, airline, or hotel chain, and has not been reviewed, approved, or otherwise endorsed by any of these entities. Opinions expressed here are the author's alone, not those of the bank, credit card issuer, airline, or hotel chain, and have not been reviewed, approved, or otherwise endorsed by any of these entities.