You know all about cash-back credit cards and travel rewards credit cards. You probably have a few in your wallet.
Every rewards credit card does basically the same thing: return a small portion of your spending back to you in the form of loyalty currency that you can redeem for fiat currency — or items valued in fiat currency, like travel bookings.
Crypto credit cards are different. As a crypto investor, some would say they're better. Either way, crypto credit card rewards come in the form of cryptocurrency or rewards points that you can use to purchase cryptocurrency if you choose. And more of these types of cards come online all the time.
The Best Crypto Credit Cards
These are the best cryptocurrency credit cards around right now. Each excels in at least one area, whether that's delivering a consistently high rate of return or offering access to the widest range of cryptocurrencies.
In our judgment, the best overall crypto credit card is the best value in the space. But the crypto world is changing fast, so be sure to check back often for new entrants. Just bear in mind that many products have waitlists.
---
Best Overall: Crypto.com Visa Card (CRO Credit Card)
If you're willing to stake a portion of your crypto holdings in the connected account, the Crypto.com Visa Credit Card offers tremendous value — to include the potential for a category-leading return on spending.
Backed by the Crypto.com cryptocurrency exchange, the Crypto.com Visa Card is also known as the CRO Credit Card, after the token you're required to stake (CRO). The card has a generous rewards program based on your CRO stake in USD:
$0 to $399.99: Earn 1% cash-back rewards in CRO
$400 to $3,999.99: 2% back in CRO
$4,000 to $39,999.99: 3% back in CRO
$40,000 to $399,999.99: 5% back in CRO
Over $400,000: 8% back in CRO
The Crypto.com Visa has some additional features worth noting, although many depend on the size of your stake and aren't available to lower-asset holders:
Complimentary Spotify subscription for stakes $400 and above
Complimentary airport lounge access and Netflix subscriptions for stakes $4,000 and above
Complimentary Amazon Prime membership for stakes $40,000 and above
More exclusive perks for stakes $40,000 and above
Up to $1,000 in free ATM withdrawals per month, depending on stake size
---
Best for Spending Crypto: Coinbase Card
The Coinbase Card is a Visa debit card that's ideal for people who actually want to spend crypto. Unlike many other cards, it doesn't require you to convert your crypto holdings into U.S. dollars before spending them, or spend dollars to get crypto rewards.
This card is currently waitlist-only, and you need a Coinbase account to apply for it. That's a small price to pay since Coinbase is one of the best-regarded cryptocurrency exchanges around.
Additional features:
Earn up to 4% back in crypto rewards, depending on your balance
No annual fee
Choose to spend crypto or dollars, regardless of the merchant's crypto acceptance policy
Choose from popular cryptocurrencies, including Bitcoin and Litecoin
Use it wherever Visa cards are accepted
---
Best for Bigger Spenders: BlockFi Rewards Visa® Signature Credit Card
This offer is no longer available.
The BlockFi Rewards Visa® Signature Credit Card has an attractive card offer for bigger spenders: a flat 2% back in crypto on every purchase over $30,000 in annual spend. If you can swing at least $30,000 in purchases each year, you'll up your reward from 1.5% to 2% back without the hefty crypto stake required by some other cards.
Additional features:
No annual fee

No foreign transaction fee
Get an additional 0.25% bonus on eligible BlockFi trades
Get $30 per successful new customer referral
---
Best Hybrid Credit Card: SoFi Credit Card
The SoFi Credit Card earns traditional cash-back rewards — a flat, unlimited 2% back on all eligible purchases, to be exact.
Why is it a hybrid? Because this card's cash-back rewards are unusually versatile. You can deposit them into a traditional bank account, use them to pay down debt held with SoFi, or invest it in assets purchased through the SoFi Invest trading platform.
And because SoFi Invest users can buy cryptocurrency, that capability turns the SoFi Credit Card into a backdoor crypto credit card of sorts.
Additional features:
Redeem cash back directly for crypto with an active SoFi Invest account
Cash-back reward drops to 1% when you redeem for a credit card statement credit
Make 12 on-time monthly payments to drop your APR by 1%
No hard credit inquiry as a condition of application
No annual fee
---
Best for Everyday Rewards: Gemini Credit Card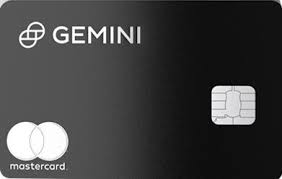 The Gemini Credit Card is a crypto credit card — currently in waitlist mode — with a rewards program built for everyday spending. The highlights:
3% back in crypto on dining purchases up to $6,000 in eligible category spend
2% back in crypto on grocery purchases
1% back in crypto on all other purchases, including dining purchases above the $6,000 limit
Additional features:
Rewards redeem automatically and immediately — no waiting to redeem them manually
Choose from Bitcoin (BTC) as your default currency or opt for more than 40+ other cryptos
No annual fee
No foreign transaction fees
No exchange fees to redeem your crypto
---
Methodology: How We Select the Best Credit Cards for Cryptocurrency Rewards
We use several important factors to evaluate cryptocurrency credit cards and select the very best for our readers. Each of these factors relates in some way to the overall cost or usability of these products.
Rewards Rate
Return on spending is a key consideration for any rewards credit card. It's especially important for crypto credit cards, which use a more volatile rewards currency. This incentivizes crypto credit card issuers to offer better rewards rates to offset potential declines in those rewards' value.
All else being equal, we prefer crypto credit cards with higher rates of return in the most spending categories.
Rewards Redemption and Access to Crypto Holdings
Some credit cards make it easier than others to access and redeem rewards balances.
All else being equal, we prefer crypto cards that automatically redeem rewards into linked accounts — in real-time if possible. Failing that, we prefer cards with seamless redemption processes that don't add cost and complexity to what should be a straightforward exercise.
Card Type
Many crypto "credit" cards are in fact crypto debit cards. They require you to keep a minimum balance on deposit (known as "staking") and draw purchases directly from that balance. While this may add flexibility, such as the ability to make ATM withdrawals from your crypto balance, it's a drawback for people seeking to earn crypto rewards on credit.
Card Fees
Most credit cards have fees, although some have more than others. As with traditional credit cards, the most common and potentially costly fee to look out for in a crypto credit card is the annual fee — although many crypto cards don't charge annual fees.
Other potential crypto card fees include:
Foreign transaction fees
Crypto liquidation fees
Overlimit withdrawal fees
Crypto funding fees
Crypto exchange fees
These fees can reduce or completely eliminate the value of any earned rewards, so they're important to consider. All else being equal, we prefer crypto cards with few or no tacked-on fees.
Cryptocurrency Options
Most crypto credit cards are compatible with major cryptocurrencies like Bitcoin and Ethereum. That might be fine for novices seeking exposure to better-known coins.
However, for more advanced users, coin selection is an important consideration. While recognizing that not everyone wants the option to take crypto rewards in less common coins, we give preference to cards that allow it.
Card and Account Security
Security is absolutely critical in the crypto world, where coin theft remains rampant and victims have little hope of recovering stolen funds. Unfortunately, while every crypto credit card says it's secure, it's difficult for regular people to independently evaluate these claims.
That said, there is one nontechnical thing crypto cards can do to reduce users' risk of loss: redeem rewards in real time and make it easy to transfer them from a hot wallet to cold storage. Users who remove their holdings from the public Internet are much less likely to have them stolen than those who keep large amounts of crypto in hot storage.
All else being equal, we give preference to cards and issuers that offer this flexibility. We are more skeptical of cards that require users to keep high crypto balances in linked wallets.
Digital Apps and Wallets
All crypto cards associate with digital financial apps, crypto wallets, or both. While not directly related to the cards themselves, these apps and wallets vary widely in quality and usability. That makes them a factor in our evaluation of associated cards.
Value-Added Features
Like traditional credit cards, the best crypto credit cards have value-added features that expand their usefulness and value. These can include features like:
Cellphone protection policies that reimburse covered losses
Travel perks, such as complimentary rental car coverage
Shopping perks, such as return protection
Concierge services, such as help making hard-to-get travel or event reservations
All else being equal, we look for cards that offer legitimate benefits in addition to their cryptocurrency rewards programs.
---
Crypto Credit Card FAQs
You have questions about credit cards that earn cryptocurrency rewards. We have answers.
How Much Can You Earn With a Crypto Rewards Credit Card?
It depends on the card. Some crypto credit cards offer returns on spending of 5% or even 8%, higher than most traditional rewards credit cards. Others are less generous but still offer nice rates of return.
Generally, crypto cards that offer really attractive returns tend to ask a lot in return. You may need to maintain a minimum crypto balance in your associated wallet or jump through other hoops that could be difficult or impossible on your budget.
On the positive side, crypto rewards have more upside than traditional credit card rewards. Traditional credit cards rewards usually have fixed value, whereas the value of crypto fluctuates daily. That means crypto rewards earned today could be more valuable next month — although the reverse is also true.
How Much Does a Crypto Credit Card Cost?
More so than most types of credit cards, cryptocurrency cards come with indirect costs beyond the headline fees (annual fee, foreign transaction fee, balance transfer fee, and so on).
That's because cryptocurrency transactions have more costs than fiat currency transactions. If you want to use your crypto rewards to purchase goods and services, you'll incur a host of small but still significant fees to do so.
Then there's the issue of crypto taxation. The IRS is increasingly attentive to consumers' crypto activities. Even earning crypto rewards could be considered a taxable event, and spending your rewards is quite likely to be.
Cryptocurrency tax is an emerging and still unsettled area of tax law. If you're concerned about your exposure come tax time, consult a tax professional.
Are Crypto Credit Cards Safe?
All credit cards carry some risk. They are a major source of identity theft and financial fraud.
If you misplace your card or card number and don't lock or cancel it, someone could use your card to buy stuff without your permission. Likewise, if you use your credit card on an unsecure website or payment terminal, hackers can steal it and use it to make unauthorized purchases.
However, traditional credit cards have important protections against financial loss due to stolen cards or card numbers.
For starters, most issuers now allow you to lock your card as soon as you discover it's missing, rendering it useless as a payment method. If you find the card later, you can unlock it. Otherwise, you can cancel it and request a new card with a new number from the issuer.
Second, and perhaps more important, virtually all credit card issuers have $0 fraud liability policies. If someone uses your card to make unauthorized charges, you won't be held personally liable for them. After investigating and determining that the charges are in fact fraudulent, the issuer reverses them.
Crypto credit cards generally have $0 fraud liability policies as well. However, they have a different vulnerability: the fact that they use crypto as a reward currency.
When held in a hot wallet that's connected to the public Internet, crypto holdings are vulnerable to theft. This is technically true of fiat currency held in bank accounts as well, but crypto wallets are far more likely to become targets of high-tech thieves, and consumers have less recourse when their holdings are pilfered.
How Do You Access and Fund a Crypto Credit Card?
As long as your crypto credit card belongs to a major payment network like Visa or Mastercard, you can use it with any merchant that accepts those types of cards.

Depending on the issuer's policy, you may need to keep a minimum crypto balance in a connected wallet. Otherwise, you can pay your balance using fiat currency (U.S. dollars).
If your card is structured not as a credit card but as a cryptocurrency debit card, it pays charges using crypto funds held in a linked account. This type of card may incur additional transaction charges when converting cryptocurrency to fiat currency.
---
How to Choose the Best Cryptocurrency Rewards Credit Card
Choosing the best cryptocurrency rewards credit card involves considerations that don't apply to traditional credit cards. These include:
The selection of cryptocurrencies available for conversion
How the card disburses rewards
Whether you're required to link a crypto wallet to your card account
The crypto-related fees associated with card use, such as liquidation and funding fees
On the other hand, crypto cards aren't entirely different from traditional credit cards. You still need to consider factors like:
The rewards rate
The interest rate and repayment terms
Card fees not directly related to crypto, such as the annual fee
Value-added features, like shopping and travel benefits
To select the card that makes the most sense for you, consider which of these factors are more important to you and which (if any) tradeoffs you can live with. The good news is that the choice of crypto cards grows by the month, so you're sure to find a product that works for you.