Pets are family members, which means they need to be cared for in every way. They need food, shelter, love, and their long-term health needs to be looked after. For many pet owners, though, medical care can be a big expense. Pet health insurance, which partially or totally covers costs associated with veterinary care, may offer a solution.
For many pet owners, the appeal of pet insurance is less financial uncertainty surrounding their pets' care. When you pay an insurance premium and know how much your provider will cover for certain services, it's easier to budget for medical care and avoid the sticker shock of an expensive procedure.
Pet health insurance may also reduce the incidence of "economic euthanasia," an emotionally painful situation wherein pet owners feel pressured to euthanize an animal because they can't afford to pay for essential medical care. No one wants to put a value on their pet's life like that.
What Is Pet Health Insurance?
Pet health insurance is a form of property insurance. In the United States and Canada, most policies require you to pay upfront and in full for emergency veterinary care or hospitalization, routine care, exam fees, medicine, and other covered items. After submitting a claim to your insurer, you're reimbursed for covered costs, subject to your policy's deductible, coverage amounts, and other factors.

Motley Fool Stock Advisor recommendations have an average return of 397%. For $79 (or just $1.52 per week), join more than 1 million members and don't miss their upcoming stock picks. 30 day money-back guarantee. Sign Up Now
Some pet health insurers do offer a direct pay (or "vet direct pay") option that eliminates the claim-filing requirement. Participating pet insurance plans simply pay the vet directly without involving the pet owner.
Unlike human health care, where a doctor's office or hospital submits claims to insurers on behalf of covered patients, pet health insurance providers typically ask you to submit your own claims. Some veterinary offices may do this as a courtesy or walk you through the process, but that isn't guaranteed.
Pet health insurance policies may come with benefit schedules that specify the reimbursement percentage for each covered service, including routine ones like preventive care and vaccinations. Other policies may provide a flat reimbursement rate, which typically ranges between 70% and 100%, across all covered services.
The difference between the reimbursement rate and the total cost of care is effectively the policyholder's copay. The majority of policies renew annually, with premiums rising – or, less commonly, falling – to reflect new health conditions, treatments received in the past year, and other factors.
Who Provides Pet Health Insurance
Pet health insurance comes from three general sources:
Specialized Pet Insurance Companies. There are at least a dozen specialized companies that offer pet health insurance and other types of insurance for pets in North America. Embrace Pet Insurance is among the most popular. North American Pet Health Insurance Association (NAPHIA)'s member list is a good place to start if you want to compare these providers.
Full-Service Insurance Companies. Some mainstream insurance companies, such as GEICO, offer pet health insurance directly or through subsidiaries, such as Nationwide Pet Insurance. Others partner with specialized pet insurance companies. For instance, Progressive offers policies through Pets Best.
Clubs and Nonprofits. The American Kennel Club (AKC) and Cat Fanciers' Association (CFA) offer special policies to their members and registered pets. Both organizations' policies are underwritten by PetPartners, a specialty pet insurance company You can access these policies only through portals on the AKC or CFA websites or by calling these organizations. The ASPCA's in-house insurance agency offers pet health insurance (dog and cat insurance) to members through a partnership with Crum & Forster.
Potential Coverage Restrictions and Limitations
Beyond the varying coverages provided by each of the three plan types, all pet health insurance policies come with some important limitations, exclusions, and restrictions:
Waiting Period. Every new policy imposes a mandatory waiting period that begins the day you sign up and lasts for 3 to 30 days, depending on the insurer. During this time, you can't access any of the policy's benefits. If your pet is injured or becomes ill during the waiting period, your insurer may not cover any related treatment costs, even after the waiting period ends. More comprehensive policies tend to have longer waiting periods.
Pet Age. Very young and very old pets may not qualify for pet health insurance at all. Companies often won't initiate new policies for dogs and cats younger than six to eight weeks or older than 14 years, though there may be exceptions. However, as long as they're signed up by the cutoff age, pets are usually covered until death.
Preexisting Medical Conditions. These are health conditions, such as urinary tract infections (UTIs) and hyperthyroidism, that existed before your policy's initiation. Insurers often refuse to cover costs associated with these conditions. However, depending on your policy, this refusal may only be temporary for certain conditions. For instance, Embrace Pet Health Insurance's embargo on reimbursement for gastrointestinal disorders and UTIs expires after 12 months. If your pet is cured of such a condition, makes it through a year with no new symptoms, and experiences a recurrence the following year, Embrace reimburses for treatment. However, other preexisting conditions, such as diabetes and allergies, are considered permanent and thus never become eligible for coverage.
Dental Issues. Though preventative care policies generally cover teeth cleaning, few pet health insurance policies cover more complex dental care and oral surgeries. These can be expensive. Tooth extraction procedures can easily exceed $1,000 per surgery for both cats and dogs.
Breeding and Reproductive Health. If your pet is a breeder or will become one in the future, many policies require you to disclose this. Otherwise, your pet may not be covered for injuries, illnesses, and preventative care related to breeding and rearing.
Novel or Expensive Treatments. Some pet health insurance providers refuse to cover novel, expensive, or ethically questionable treatments. For instance, Embrace doesn't cover prosthetic limbs, cloning, or elective stem cell therapy. These restrictions vary by insurer.
Deliberate Injuries and Fighting. Pet insurance policies generally don't cover injuries deemed by a licensed veterinarian to be deliberate, nor diagnostic exams related to those injuries (such as X-rays). Such injuries might result from physical abuse by an owner, organized fighting, or racing.
Neglect. Insurance companies usually require you to provide a basic standard of care for your pet, and they may invalidate or refuse to renew your policy if you fail to do so. For instance, Trupanion requires policyholders to keep their pets current on all vet-recommended vaccines, including rabies, distemper, and feline panleukopenia.
Burial or Cremation. Few if any pet health insurance policies cover death expenses. However, there may be other types of pet insurance available that do cover these costs.
Factors Affecting Pet Health Insurance Costs
Factors that commonly affect the cost of a pet health insurance policy include the following.
1. Policy Type
There are three major types of pet health insurance policies: accident only, accident and illness, and accident and illness with embedded wellness (also known as wellness/preventative care). Average costs vary for each.
2. Species and Breed
Dogs are generally more expensive to insure than cats since their veterinary bills tend to be higher. Per NAPHIA's statistics for 2019, average premiums for cat policies typically come in around 60% to 70% of those for dogs, depending on the policy type. For both species, purebred animals are usually more expensive to insure than mutts due to a higher incidence of hereditary health problems in purebreds.
The actual cost of your pet's policy depends on the problems known to affect their particular breed. For instance, English bulldogs and Great Danes, both of which are known to be susceptible to a number of hereditary health problems, cost about 60% more to insure than the average dog due to higher lifetime vet bills on average.
3. Number of Pets on the Policy
If you have multiple pets, your insurance company may offer a premium discount for including them all on the same policy. These discounts vary by insurer but are usually from 10% to 50% of each pet's individual premiums.
4. Payment Frequency
Some pet health insurance policies may offer modest discounts for paying your annual premium upfront and in full, as opposed to making monthly payments. For instance, Embrace Pet Insurance and GEICO Pet Insurance both offer 5% discounts for annual premium payments.
5. Spaying and Neutering
Spayed and neutered pets tend to be cheaper to insure. For instance, Embrace applies an automatic 5% discount to all policies for such pets, which tend to have lower lifetime costs for veterinary care and require fewer vet visits overall.
6. Geography
When determining your policy's premium, pet health insurance companies look at the average cost of care and procedures at veterinary clinics in your area.
Vets tend to be more expensive in metropolitan locales and affluent communities and cheaper in rural areas. However, if you live in a thinly populated area where the few available choices are expensive, your premiums could be higher.
7. Pet Age
Since they tend to be healthier, younger pets are much cheaper to insure than older ones – except very young animals, whose health is more fragile. Insuring young pets also reduces the likelihood that your animal becomes more expensive to insure due to a preexisting condition.
Your exact savings depend on your insurer, policy type, annual deductible, where you live, and whether you have a bundled or multi-pet policy. Regardless of when you initiate coverage, your policy will probably rise in cost as your pet ages and becomes more likely to get sick.
8. Chronic Conditions
The lists pet insurance providers keep of chronic conditions are similar – sometimes identical – to their lists of preexisting conditions. The difference is that chronic conditions develop after policy initiation, not before, and therefore qualify for coverage.
However, the appearance of a chronic condition, like asthma, heartworm, hip dysplasia, or cancer, may result in a premium spike when you next renew your policy.
It's important to understand that hereditary conditions and even congenital conditions may not be known to you or your insurance provider before initiating coverage. With regards to the long-term cost of your policy, the distinction between chronic, preexisting, and hereditary or congenital may not be relevant.
9. Deductible
A deductible is the annual out-of-pocket amount you're responsible for paying before your policy's insurance coverage kicks in. Higher deductibles correspond to lower premiums and vice versa.
10. Reimbursement Caps
Policies sometimes cap reimbursements for certain conditions on a per-incident, annual, or lifetime basis. Others place an annual cap on total reimbursements across all coverages. If you anticipate needing a lot of care for your pet, you should look for a policy with either no caps or very high ones.
Note that more generous or unlimited policies are more expensive than those with lower caps.
11. Bundling With Other Policies
If your pet health insurance provider also offers other types of insurance, you may be able to secure a discount by bundling with another policy. This is most frequently done with homeowners or renters insurance policies. As an example, Lemonade offers Pet insurance as well as renter's, homeowners, and life insurance
12. Services Used
If you make a claim on your pet health insurance policy, your insurer may raise your premiums at the next renewal date, regardless of what the claim was for.
Policy Types and What They Cover
Pet health insurance policies come in three basic types:
1. Accident Only
This covers only veterinary costs, including emergency surgeries, associated with unexpected injuries, such as those caused by falls or vehicles. According to NAPHIA, the average annual premium paid on an accident only policy for dogs is about $194.
Monthly Premium: Starts as low as $3 per month but varies widely depending on location and the age and breed of the animal
Deductible: Ranges from $0 to $1,000 per year, with $200, $500, and $1,000 being the most common
Reimbursement After Deductible Is Met: 70%, 80%, or 90% for all covered treatments
Annual Payout Limit: $2,500 to $20,000
Lifetime Payout Limit: $10,000 to $200,000
---
2. Accident and Illness
This covers costs associated with accidents as well as acquired or inherited illnesses, infections, and other detrimental changes to your pet's health. Example coverages include cancer treatments, diagnostic imaging, physical rehabilitation, and many surgeries. Per NAPHIA, the average annual premium for an accident and illness policy for dogs is about $585.
Monthly Premium: Starts as low as $15 per month but varies widely depending on location and the age and breed of the animal
Deductible: $100, $250, or $500 per year
Reimbursement Percentage After Deductible Is Met: 70% to 100%
Annual Payout Limit: $2,500 to unlimited
Lifetime Payout Limit: Starts at $10,000 for low-premium policies, but many policies have no limit
---
3. Wellness/Routine and Preventative Care
This is the most comprehensive type of pet health insurance policy, covering costs arising from accidents, illnesses, and infections, as well as preventative care, checkups, and medications.
Examples of non-accident, non-illness coverages include vaccines, teeth cleanings, prescription diets, and spaying or neutering. NAPHIA no longer tracks average annual premiums for this policy type, but they're significantly more expensive than accident only and accident and illness policies. Expect to pay at least 50% more than the cost of accident and illness coverage for a policy that includes wellness and preventive care coverage.
Monthly Premium: Starts as low as $40 per month but varies widely depending on location and the age and breed of the animal
Deductible: $0 to $500
Reimbursement Percentage After Deductible Is Met: 80% to 100%
Annual Payout Limit: $5,000 to unlimited
Lifetime Payout Limit: Starts around $20,000 for low-premium policies, but many policies have no lifetime or annual limit
---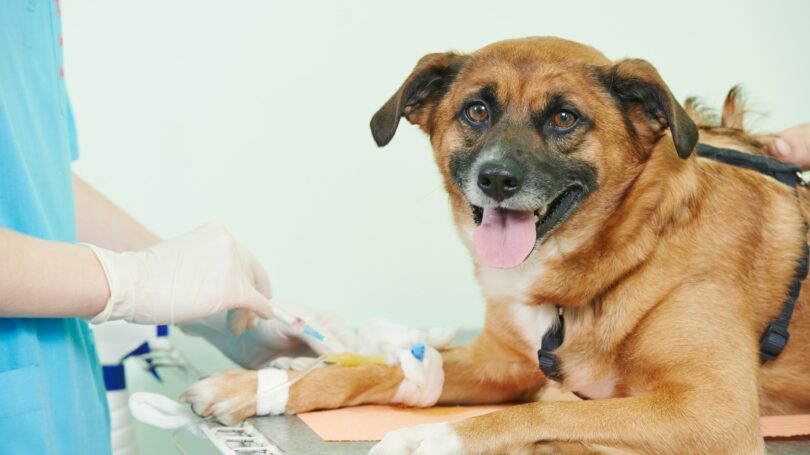 Final Word
Consciously or unconsciously, many caring pet owners are forced to place a monetary value on the lives of their animals. Though it would be nice to be able to devote unlimited resources to pet care, keeping your dog or cat healthy and happy can't come at the expense of your own well-being or your family's.
Pet health insurance may offer a solution that allows you to deliver uncompromising care without stretching your budget too far. However, it's not a miracle cure for pet-related financial issues. And in many cases, it might cost more than paying out of pocket.
It's up to you to assess your pet's health and risk factors, evaluate your coverage options, and determine whether it makes sense to take out a pet health insurance policy for your furry companion.