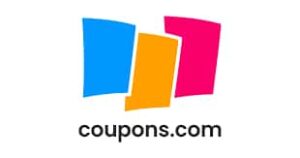 Pros
Extensive coupons database
New coupons regularly added
Huge library of cash back opportunities
Cons
Limits on paper coupons
Online coupons aren't always great
Some work required to get discounts
As a saving tool, coupons are incredibly popular. According to Statista, almost 90% of people used coupons in 2020. The bottom line is that for decades, coupons have been helping people save on groceries, everyday essentials, and their favorite brands.
Whether you're just learning how to coupon or a self-proclaimed extreme couponer, sourcing coupons is the first step to saving money.
That's why Coupons.com, a leading coupons website, is a must-use couponing tool for savvy shoppers. If you want free paper and digital coupons plus the chance to earn cash-back rewards, this couponing platform is worth signing up for.
Key Features of Coupons.com
Coupons.com is a free couponing website that boasts hundreds of dollars in free coupons at any given time across numerous shopping categories.
This makes Coupons.com an excellent resource for anyone looking to go beyond using the occasional coupon they find in the mail when they get a store flyer.
Additionally, Coupons.com offers several ways to use coupons and online cash-back offers to save money.
Printable Coupons
Printable coupons are one way to save with Coupons.com, and you can find coupons for multiple categories, including:
Apparel
Baby and toddler
Food and beverages
Groceries
Office and electronics
Personal care
Pet products
Travel
Groceries are the largest category, and you can usually find several dozen grocery coupons while other categories might have under 10 coupons. But new coupons appear daily, so it's worth visiting Coupons.com regularly to find deals for your next shopping trip.
When you select a category, Coupons.com displays a list of printable coupons. Clicking on a coupon adds it to your list. You can review coupons on your list before printing, but you need to create a free Coupons.com account with your email address or Facebook account before viewing your list.
Alternatively, you can print coupons without creating an account using the print button, but Coupons.com requires your phone number and sends a verification code via text that you must enter before printing.
Printing paper coupons might seem old school when you consider how popular mobile coupon apps like Ibotta and Fetch Rewards are. But paper coupons are still an effective way to save, and Coupons.com regularly has offers for several dollars off your purchase.
For example, some recent manufacturer coupons include:
$1 off Listerine Mouthwash
$1.25 off Magnum Ice Cream
$2 off any Garnier Fructis shampoo, conditioner, or dry shampoo product
$2.50 off any Neutrogena acne product
$4 off Claritin Chewables
$5 off Rogaine
Most offers only let you print two coupons per account, so you need multiple household members to sign up for Coupons.com if you want additional paper coupons.
Also read coupon terms carefully before printing to avoid wasting ink on coupons that don't cover the products you want to buy or are expiring soon. You can view complete coupon details and expiration dates on your computer's printing preview screen. Alternatively, save coupons as a PDF instead of hitting print and read the coupon details in PDF form.
Digital Coupons
Another way Coupons.com helps you save money is with digital coupons. Coupons.com has digital coupons for dozens of stores, including massive retailers like:
Albertsons
BJ's Wholesale Club
Costco
Dollar General
Food Lion
Kroger
Meijer
Publix
Safeway
Sam's Club
Target
Walgreens
Walmart
Additionally, you can usually find 50 to several hundred digital coupons per retailer, so the saving potential is higher than just using paper coupons.
However, if you want to use digital coupons at a retailer, you need to have a loyalty card or be a member of that retailer's loyalty program. This is because Coupons.com links with your loyalty card or rewards program number and saves digital coupons to your account. This lets you shop in-store and redeem coupons at the register.
For example, on the Walgreens coupons page, you might find a $2 off coupon for Tide laundry detergent that you want to redeem. When you click on the coupon, you have to enter your phone number to find your myWalgreens membership and link it to Coupons.com. Afterward, Coupons.com saves the digital coupon to your Walgreens account. You redeem the coupon at the register when the cashier enters your myWalgreens membership information.
Ultimately, if you can load several digital coupons onto a loyalty card or membership before shopping, you can consistently find savings at checkout thanks to Coupons.com.
Coupons.com Mobile App
Many Coupons.com partners let you save coupons directly to your store loyalty card or membership account to redeem savings in-store. But certain stores like Costco, Kroger, Target, and Walmart require using the Coupons.com app to redeem savings.
The Coupons.com app is free for Android and iOS and offers additional ways to save on groceries and everyday essentials. Using the mobile app takes three steps:
Find Offers. Scan the Coupons.com app for cash-back rebates on products you want to buy and activate them by tapping on them to add them to your shopping list. This is the same step apps like Ibotta require, and you have to activate offers before shopping if you want to save.
Shop. Buy the products on your shopping list. Some offers are store-specific but most are for brands you can find at multiple retailers so you can shop at your favorite stores.
Redeem Savings. If the store you're shopping at lets you link a loyalty card or membership program to your Coupons.com account, coupons apply at the register and reduce your purchase total. But for stores like Costco and Walmart that don't allow linking a card, you have to verify your purchase by taking a picture of your receipt with the Coupons.com app. After Coupons.com verifies that you bought eligible products, you get cash in your PayPal account. This means you can either save with coupons at the register or enjoy cash-back rebates with the app.
The best part about earning cash back with the Coupons.com app is that there isn't a payout minimum. As soon as you earn cash back, you get the money in your PayPal account. This is different from reward apps like Dosh that requires $25 to cash out or from the shopping platform Rakuten, which only pays you quarterly if you have at least $5 in cash back.
Plus, Coupons.com gives a $5 welcome bonus when you redeem an offer for the first time through the app.
Like other receipt scanning apps, remember to activate offers before shopping if you want to earn. Additionally, receipts need to clearly show the date, retailer name, transaction total, and list of products you bought to be eligible.
Cash Back Offers
Paper and digital coupons are the main ways to save with Coupons.com. But if you're an avid online shopper, you can still find deals thanks to the website's cash-back offers.
Coupons.com has a database of cash-back offers for dozens of grocery store and drugstore items, including:
Diapers and baby food
Personal care products
Shelf-stable beverages
Baked goods
Candy and snacks
Health and wellness items
Household supplies
Pet care products
Perishable groceries like meat and seafood
You can search for specific stores or products you want cash back on. Then, activate the offer on Coupon.com's website or mobile app.
If your preferred store loyalty card is linked to Coupons.com, you'll automatically get cash back when you shop. Otherwise, just take a picture of your receipt and upload it to get credit.
---
Advantages of Coupons.com
Coupons.com is a leading couponing website with numerous advantages thanks to its depth of coupons and retail partners.
Coupon Variety. Redeem paper or digital coupons for in-store savings. Alternatively, use the Coupons.com app to earn cash back on specific purchases. You can also use promo codes to save money when shopping online.
Store Variety. Coupons.com works with hundreds of stores for in-store savings and over 1,000 stores for online promo codes. Plus, Coupons.com works with many major grocery stores and retailers like Walmart, making it an effective way to save on groceries and everyday purchases.
Completely Free. Creating a Coupons.com account is free and requires your email address and phone number or your Facebook account and phone number. There aren't hidden fees or membership costs to worry about.
No Cash-Back Minimums. Most apps that pay you require earning $5 to $25 in cash back before you redeem rewards. In contrast, Coupons.com lets you enjoy cash back immediately.
Disadvantages of Coupons.com
Despite the variety of coupons and generous cash-back system, there are several downsides to using Coupons.com.
Paper Coupon Limits. If you prefer using paper coupons, the two-coupon printing limit is a significant downside. In this case, you're better off searching for printable coupons directly on brand websites like Pillsbury and Kellogg's or relying on coupon inserts in the mail.
Cash Back May Not Be As Good As Offers Found Elsewhere. Despite the depth of cash-back offers available here, Coupons.com is just an aggregator of deals that isn't different from RetailMeNot. Additionally, you can use shopping browser extensions like Honey and Capital One Shopping to automatically apply coupons at checkout when shopping online to skip searching for cash-back offers yourself.
Not Always Passive. Adding coupons to store loyalty cards is the lowest-effort way to save money with Coupons.com. But you still need to activate offers before shopping or search for printable coupons if you want to save. If you're looking for passive savings, use Dosh alongside a cash-back credit card to save on everyday purchases instead.
---
How Coupons.com Stacks Up
Coupons.com is one of many apps that make it easy to score printable, digital, and cash-back coupons on everyday purchases. Let's see how it compares against another popular coupon app: Ibotta.
| | | |
| --- | --- | --- |
| | Coupons.com | Ibotta |
| Printable Coupons | Yes | No |
| In-App Purchases | No | Yes |
| Link a Loyalty Account | Yes | Yes |
| Upload Receipts | Yes | Yes |
---
Final Word
One basic couponing tip is to know where to find coupons in the first place. On that front, Coupons.com is one of the best resources for finding printable and digital coupons to save money. When you throw in cash-back rewards from its mobile app, it's clear Coupons.com is a versatile platform that deserves a place in your arsenal of money-saving tools.
However, it's still important to stick to a budget so you spend within your means. Additionally, avoid impulse buys and follow a regular shopping list. A couponing tool like Coupons.com is only useful if it helps you save money on the products you normally buy.
If you find you're adjusting your shopping list for the sake of snagging a deal, make sure the deal is worth it and that you actually enjoy the product and aren't sacrificing quality or wasting money for the sake of bargain hunting.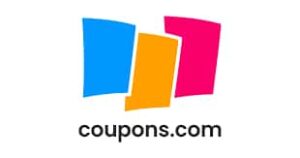 Pros
Extensive coupons database
New coupons regularly added
Huge library of cash back opportunities
Cons
Limits on paper coupons
Online coupons aren't always great
Some work required to get discounts
Editorial Note: The editorial content on this page is not provided by any bank, credit card issuer, airline, or hotel chain, and has not been reviewed, approved, or otherwise endorsed by any of these entities. Opinions expressed here are the author's alone, not those of the bank, credit card issuer, airline, or hotel chain, and have not been reviewed, approved, or otherwise endorsed by any of these entities.