Advertiser Disclosure: This post includes references to offers from our partners. We receive compensation when you click on links to those products. However, the opinions expressed here are ours alone and at no time has the editorial content been provided, reviewed, or approved by any issuer.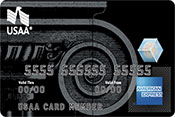 USAA provides many financial products to service members, their families, and those affiliated with the military – and credit cards are among the most popular of them. The USAA American Express Rewards Card features a low-interest opportunity and a rewards program for earning significant points on gasoline and grocery purchases. If you qualify, you may want to give serious thought to the USAA Rewards American Express card.
Key Features
Sign-up Bonus. When you make your first purchase you receive a bonus of 2,500 points, which is worth $25 if redeemed for airfare.
Fees. There is no annual fee. Balance transfers are 3% with a maximum fee of $200. The foreign transaction fee is 1%.
APR. The APR for purchases and balance transfers ranges from 9.90% to 25.90%, based on your creditworthiness and variations in the prime rate.
Rewards Program. You earn 2 points per dollar spent on gas and grocery purchases, and 1 point for each dollar spent everywhere else. There is no cap on the number of points you can earn and they do not expire. Points can be redeemed for cash, merchandise, gift cards, or airline travel booked online at USAA.com or by phone. If you redeem your points for airfare, each point is worth one cent – they are worth slightly more if you redeem for cruises through Explore Cruise Travel. However, the value of each point is less if redeemed for cash, merchandise, or gift cards. For example, you can redeem 3,500 points for a $25 gift card or gift certificate with popular retailers such as Macy's, Marriott, or Staples, or you can redeem 3,000 points for a $25 statement credit. However, if you redeem a larger number of points for cash, the value of each point increases. As an example, 20,000 points can be redeemed for a $200 statement credit. You can also donate your points to organizations such as Habitat for Humanity – 6,000 points equals a $50 donation.
Eligibility. In order to qualify for the USAA Rewards American Express you must be a USAA member. This requires you to be an active-duty service member, a retired and honorably separated officer, or an enlisted personnel of the U.S. military. You may also qualify if you are an officer candidate in a commissioning program such as Academy, ROTC, or OCS/OTS, or if you are an adult child of a USAA member, spouse, or a widow or widower of a service member.
Military Benefits. The Servicemembers Civil Relief Act (SCRA) provides a reduced interest rate of 6% on credit obligations incurred before beginning active duty (this applies to reservists and national guards, as well). USAA offers a lower interest rate of 4% on preexisting USAA credit card and loan debt. Other military benefits include a reduced rate of 4% on USAA credit cards for active-duty members who are deployed or deploying, or those who undergo a permanent change of station. In addition, members who receive a qualifying campaign medal can have all interest incurred during that campaign rebated onto their USAA credit card. Qualifying campaign medals include Global War on Terrorism Expeditionary Medal, Iraq Campaign Medal, and Afghanistan Campaign Medal.
Advantages
Low Interest. Cards which feature rewards programs, especially on everyday purchases, rarely offer the opportunity to qualify for a low interest rate. If you carry a balance on your USAA Rewards card and make your minimum payment each month, the interest rate could be almost half that of other rewards cards.
No Cap or Expiration for Points. There is no cap on the number of points you can earn with the USAA Rewards card, even in the bonus categories of gasoline and groceries – and they do not expire. Often, rewards programs impose a maximum number of points that can be earned in bonus categories, and once that cap is reached, all additional purchases in those categories default to the "other" rate of 1 point per dollar spent.
No Rotating Categories. Many other rewards programs require cardholders to enroll in rotating categories in each quarter to earn their bonus rewards. If you don't remember to sign up or you don't purchase anything in those categories, you earn only 1 point per dollar spent. With the USAA Rewards American Express card, all gas and grocery purchases earn 2 points per dollar spent, all the time.
Military Benefits. USAA provides its members with additional benefits including a 4% APR for active duty members – lower than the SCRA requires – as well as the opportunity to have all interest incurred during a campaign in which you earn a qualifying campaign medal rebated to your USAA card.
Disadvantages
Low Sign-up Bonus. The sign-up bonus of 2,500 points is the lowest offered by rewards cards and is worth, at most, $25 if you redeem for travel. You need 2,500 more points if you want to redeem for gift cards. Although there is no annual fee, there are other cards that award gas and grocery purchases and offer better sign-up bonuses, also without an annual fee. For instance, the Chase Freedom card and BankAmericard Cash Rewards card both feature sign-up bonuses worth $100.
No Introductory APR. It is common for rewards cards to offer a 0% introductory APR on purchases and balance transfers for anywhere from 9 to 15 months. Discover it, Chase Freedom, and the American Express Blue Cash Everyday all offer 0% for 15 months. All three cards award "everyday" purchases, and none have an annual fee.
Low Point Value. Unless you redeem your points for airline travel, cruises, or cash (which requires 20,000), your points are worth less than one cent each. Other cards, such as Chase Freedom and Discover it, allow redemption in the form of a statement credit, check, or direct deposit, and rewards are worth at least one cent per point.
Foreign Transaction Fee. Although the foreign transaction fee is only 1%, if you make purchases outside of the U.S., this fee could cancel out any rewards you earn. Credit cards without foreign transaction fees, such as Discover it and Capital One Quicksilver Cash, may be better suited if you plan on making many purchases abroad.
Final Word
The USAA American Express Rewards Card provides excellent low-interest and rebate opportunities for service members. However, many other cash back cards award everyday purchases like gasoline and groceries and offer better rewards and bigger sign-up bonuses.
Verdict
If you can qualify, the USAA Rewards American Express card features certain benefits that you may find helpful.
Score
3.9 out of 5 stars: Many other cash back cards award everyday purchases such as gasoline and groceries, and provide better reward opportunities and more advantageous sign-up bonuses. However, this is a great card for service members and their families who may benefit from low interest opportunities and unlimited rewards on everyday purchases.