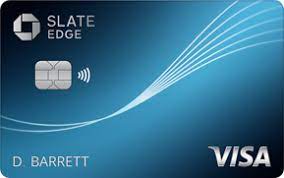 Chase Slate Edge Card
Sign-Up Bonus: None
Rewards: None
Benefits: Get an automatic review for a credit limit increase when you pay on time and spend $500 in purchases in the first six months; monitor your credit health with Chase Credit Journey
Fees: 3% foreign transaction fee; intro balance transfer fee of $5 or 3% of the amount of each transfer (whichever is greater) on transfers made within 60 days of account opening, then the greater of $5 or 5%
Annual Fee: $0
Introductory APR: 0% APR on purchases and balance transfers for 18 months from account opening, then variable regular APR applies (currently20.49% to 29.24%)
Credit Limits: Low to medium
Credit Required: Good to excellent
The Chase Slate EdgeSM credit card is a low APR credit card with a very nice 0% APR introductory promotion. With no annual fee and a slew of cardholder-friendly benefits, it's an excellent spending aid for people seeking to build or improve their credit in short order.
Slate Edge isn't everything to everyone. The lack of a regular rewards program is a glaring omission for consumers used to earning an ongoing return on spending. And Slate Edge doesn't have the sort of generous perks common in the travel rewards credit card space today.
Still, it's worth a closer look if you're in the market for a no-nonsense credit card that won't cost you anything to keep in reserve.
Key Features
The Chase Slate Edge credit card has a nice 0% APR introductory offer and some other cardholder-friendly features worth noting.
Annual Interest Rate Reduction
Make on-time payments and spend at least $1,000 on your card in an account anniversary year to become eligible for a 2% annual interest rate reduction each year until your APR reaches the prime rate plus 9.74%.
Your interest rate reduction may be less than 2% depending on the APR you receive when you open your account.
Introductory APR
Enjoy 0% APR on eligible purchases and balance transfers for the first 18 months your account is open. A variable APR of 20.49% to 29.24% applies on balance transfers and purchases after the introductory period ends. This rate is subject to change with the prime rate.
Additional Card Benefits
The Chase Slate Edge card has some additional benefits worth noting:
My Chase Plan, a structured payment feature that lets you split large purchases into manageable monthly payments without paying interest — just a fixed monthly fee
Chase Offers, a cash-back rewards program that delivers a return on spending with eligible partner merchants during time-limited offer periods
Purchase protection on eligible items purchased with your card for 120 days — covering damage or theft up to $500 per claim and $50,000 per account
One-year extended warranties on purchased items with existing store or manufacturer warranties of three years or less
Auto rental collision coverage on rentals paid in full with your card when you decline the rental company's offer of coverage
24/7 roadside assistance for services like towing, jumpstarting, tire changes, lockout assistance, winching, and gas delivery, subject to out-of-pocket costs for services rendered
Chase Credit Journey, a suite of handy credit-building tools that help you keep tabs on your FICO score
Important Fees
Slate Edge has no annual fee. The foreign transaction fee is 3% of the total transaction amount.
The introductory balance transfer fee is $5 or 3% of the amount of each transfer (whichever is greater) for transfers made within 60 days of account opening. The regular balance transfer fee is the greater of $5 or 5% on transfers made after that time.
Credit Required
Chase Slate Edge requires good credit or better. Initial credit limits may be modest, but Chase offers a clear path to a credit limit increase with responsible use and timely payments.
---
Advantages
The Chase Slate Edge credit card has some clear advantages, including no annual fee, a solid sign-up bonus, and automatic consideration for a credit limit increase with responsible card use during the first six months.
No Annual Fee. Chase Slate Edge does not charge an annual fee. This is a boon for frugal cardholders who don't want to pay to keep this card in reserve. And it's especially welcome given that there's no regular rewards program here.
Good 0% APR Introductory Promotion. Slate Edge offers a very generous 0% APR introductory promotion on both purchases and balance transfers. Thereafter, variable regular APR applies.
Annual Rate Reduction With Responsible Card Use. Slate Edge may reduce your interest rate by up to 2% each year when you spend at least $1,000 between account anniversary dates and pay your statement on time. This continues until you reach the interest rate floor, currently set at the prime rate plus 9.74%.
Nice Lineup of Card Benefits. Slate Edge has a nice lineup of card benefits, including one-off cash back opportunities through Chase Offers, purchase protection for eligible items damaged or stolen within 120 days of purchase, rental car coverage on vehicles paid in full with your card (terms apply), a free credit score with Chase Credit Journey, and extended warranties on eligible items with existing store or manufacturer warranties.
---
Disadvantages
The Chase Slate Edge card has some downsides. It lacks a regular rewards program, charges a fee for foreign transactions, and doesn't extend its 0% APR promotion as long as some competing cards.
No Ongoing Rewards Program. While the Chase Offers program is nice, it only applies to a relative handful of purchases with participating partner merchants. Slate Edge doesn't have an ongoing rewards program that provides a reliable return on spending.
Has a Foreign Transaction Fee. Slate Edge has a 3% foreign transaction fee. This fee applies both to point-of-sale purchases made overseas and certain online purchases with international merchants.
No Sign-up Bonus. Slate Edge doesn't offer a sign-up bonus for new cardholders. That's a shame for folks looking to earn a little something back shortly after opening their accounts.
---
Final Word
The Chase Slate EdgeSM credit card appeals to would-be cardholders who aren't fixated on high-end rewards programs, expansive travel credits, or luxe travel perks like automatic elite status with your airline or hospitality chain of choice.
Not that it's completely basic. Although it's not a generous credit card in the grand scheme of things, Slate Edge has more bells and whistles than the typical entry-level credit card, such as a clever scheme that could significantly reduce your regular APR over time and inclusion in the Chase Offers cash-back program.
Bottom line: If you're looking for a card that's accepted by millions of merchants worldwide, waives interest for the first year, and builds credit with responsible use, Slate Edge should be on your shortlist.
The Verdict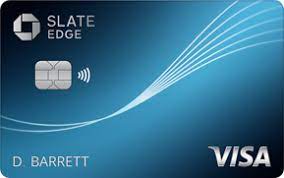 Chase Slate Edge Card
The Chase Slate EdgeSM credit card does not have a generous rewards program or luxe travel perks. But that's okay — it's not designed for people seeking those things. What Slate Edge does offer is a solid 0% intro APR promotion, a clear path to build credit, no annual fees, and the prospect of a low regular APR with responsible card use. If that sounds good to you, go ahead and apply.
Editorial Note: The editorial content on this page is not provided by any bank, credit card issuer, airline, or hotel chain, and has not been reviewed, approved, or otherwise endorsed by any of these entities. Opinions expressed here are the author's alone, not those of the bank, credit card issuer, airline, or hotel chain, and have not been reviewed, approved, or otherwise endorsed by any of these entities.