If you travel often, you're probably pretty good at trimming your expenses on the road. Whether that means deploying innovative strategies to find cheap flights, keeping costs low in airports and restaurants, or snagging last-minute hotel deals, you know how to get where you're going for less.
And you probably know that one travel hack has near-legendary cost-cutting capabilities: the annual free night or nights offered by some premium hotel rewards credit cards. Often, this benefit comes with no strings attached. You get your free stay or stays every year you remain a cardholder in good standing.
Even one annual free night can be worth hundreds of dollars at higher-end properties, and cards that offer multiple free nights typically offset their annual fees multiple times over. Which makes it all the more important to choose wisely.
The Best Hotel Credit Cards for Free Nights
These are the best credit cards on the market for people seeking free stays at their favorite hotel properties.
Each does at least one thing really well, whether it's delivering a valuable award night benefit regardless of spend level or providing additional travel benefits that enhance the card's overall appeal. Our best overall pick delivers the best award night benefit around, in our judgment.
---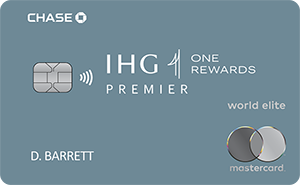 The IHG One Rewards Premier Credit Card has the best new cardholder offer of any hotel credit card right now, enough to place it atop our list as the best overall hotel credit card for free nights.
The details: Earn 140,000 Bonus Points after spending $3,000 on purchases in the first 3 months from account opening.
This bonus is worth more than 12 full award nights at the lowest-priced IHG properties.
Moving forward, you'll earn one complimentary award night each year you remain a cardholder in good standing. This benefit does not have a spend requirement and is good at a wide range of eligible IHG properties.
Additional features:
Up to 25x Total Points on IHG Purchases: Earn up to 26x IHG points on all eligible purchases at IHG properties, depending on your loyalty status.
Unlimited 2x Rewards Categories: Earn 5x points on eligible purchases of travel and at restaurants and gas stations.
Base Rewards: Earn unlimited 3x points on most other eligible purchases.
Automatic Platinum Elite Status: Enjoy benefits like a 50% bonus to base point earnings as long as your account remains in good standing.
Key Fees: $99 annual fee; no foreign transaction fee.
---
Best for Business Travelers: Marriott Bonvoy Business® American Express® Card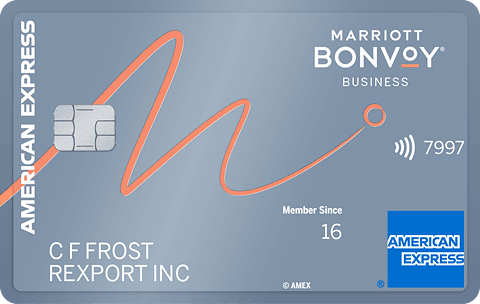 The Marriott Bonvoy Business® American Express® Card offers the best value of any business credit card for travelers seeking free night benefits.
Like the Bonvoy Boundless card, it offers one free night each year at participating Marriott properties as a benefit of card membership, with no spend requirements or other hoops to jump through.
If you can swing $60,000 in eligible spending in a calendar year, you'll earn an additional free night. Both free night awards are good for redemption at hotels that require 35,000 or fewer points per night.
Terms and conditions apply — see this card's rates and fees.
Additional features:
6x Points on Eligible Purchases at Marriott Properties: Earn 6x points on eligible purchases throughout the Marriott universe.
4x Categories: Earn 4x points on eligible purchases made at restaurants worldwide, at U.S. gas stations, on wireless telecom purchases made directly with U.S. providers, and on U.S. shipping purchases.
2x Categories: All other eligible purchases earn 2 points per $1 spent.
Complimentary Bonvoy Gold Elite Status: Enjoy benefits like a 25% points bonus on eligible Marriott purchases.
Welcome Offer: Limited Time Offer: Earn 125,000 Bonus Marriott Bonvoy Points after you use your new Card to make $8,000 in purchases within the first 6 months of Card Membership. Offer Ends 11/1/23.
Key Fees: The card's annual fee is $125. There are no foreign transaction fees. Cash advances cost the greater of $5 or 3%. Late and returned payments cost up to $39. For rates and fees of the Marriott Bonvoy Business® American Express® Card, please visit its rates and fees page.
Find out how to apply for this card here.
For rates and fees of the Marriott Bonvoy Business® American Express® Card, please visit this rates and fees page.
---
Best for Moderate Spenders: World of Hyatt Credit Card
The information related to the World of Hyatt Credit Card has been collected by Money Crashers and has not been reviewed or provided by the issuer of this card.
The World of Hyatt Credit Card promises two free night awards with just $15,000 in annual spending. These awards come as follows:
One free night award after your cardholder anniversary, with no spend requirement
Another free night award after you spend at least $15,000 in eligible purchases in a calendar year
Both award nights are good at low- to midpriced Hyatt properties — specifically, Tier 1 to Tier 4 properties.
Additional benefits:
Complimentary World of Hyatt Discoverist Status: Enjoy benefits like a 10% bonus on base point earnings and resort fee waivers on reward nights as long as you remain a cardholder in good standing.
Bonus Points on Bookings With Select Travel Partners: Partners include American Airlines and Avis.
Sign-Up Bonus: Earn 30,000 bonus points after you spend $3,000 on eligible purchases in the first 3 months. Plus, earn 2 bonus points per $1 spent on purchases that earn 1 bonus point up to $15,000 in the first 6 months of account opening.
4x Points Categories: Earn unlimited 4 bonus points per $1 spent at participating Hyatt properties.
2x Points Categories: Earn unlimited 2 bonus points per $1 spent on purchases at restaurants, with local transit and commuting providers, on fitness and gym memberships, and directly with airlines.
1x Points Categories: Earn unlimited 1 bonus point per $1 spent on all other eligible purchases.
Key Fees: There is a $95 annual fee. There is no foreign transaction fee.
---
Best for Upscale Travel: Marriott Bonvoy Brilliant™ American Express® Card
The Marriott Bonvoy Brilliant™ American Express® Card has the longest list of perks and value-added benefits of any card on this list. That's to be expected from a credit card with a $650 annual fee (see rates and fees) — although it's worth every penny if you take full advantage of what Bonvoy Brilliant offers.
The free night award itself is straightforward and easy to attain. You'll simply earn one free night reward at participating Bonvoy properties every year your account remains open and in good standing (terms apply).
Additional features (terms apply to all these benefits):
Automatic Gold Elite Status: Enjoy a 25% bonus on base point earnings at participating Marriott properties and complimentary room upgrades where available.
Annual Spend Bonus: Spend $60,000 on eligible purchases in a calendar year to become eligible to select an Earned Choice Award benefit such as: Five (5) Suite Night Awards, 85,000 Free Night Award, or a $1,000 discount on mattress and box spring from Marriott Bonvoy Boutiques. Certain hotels have resort fees.
Annual Travel Credit: Earn a $300 Marriott Bonvoy statement credit each year (up to $25 per month) after you make eligible purchases at restaurants worldwide.
Welcome Offer: Earn two 85K Free Night Awards after you spend $6,000 in purchases on the Card in your first 6 months. Each award can be used for one night (redemption level at or under 85,000 Marriott Bonvoy points) at hotels participating in Marriott Bonvoy. Certain hotels have resort fees. Offer ends 11/1/2023.
6x Rewards Category: Earn 6x points at participating Marriott hotels.
3x Rewards Categories: Earn 3x points at U.S. restaurants and on flights booked directly with airlines.
Base Rewards: Earn 2x points on all other eligible purchases.
Key Fees: $650 annual fee; no foreign transaction fee (see rates and fees).
Other Benefits: Enjoy complimentary airport lounge access at more than 1,000 locations worldwide (enrollment required) and a $100 annual Marriott Bonvoy property credit at participating properties (terms apply).
Learn more about this card and find out how you can apply here.
---
Methodology: How We Select the Best Credit Cards for Free Hotel Stays
We consider several important factors when evaluating the top hotel credit cards for free award nights. Some relate to the award night benefit itself, while others have more general bearing on these cards' overall usefulness to the user — or to their net cost.
Number of Free Nights Per Year
This is the most important determinant of a free night card's raw value. The more free nights you get each year, the more value you can extract from the card.
Most free-night cards offer just one per year. But some offer two, and a precious few offer even more, albeit with significant earning and redemption restrictions. All else being equal, we prefer the more generous cards.
Spend Requirements to Get the Free Night(s), If Any
Not all free-night credit cards require you to meet an annual spending threshold to claim the free night or nights. We give preference to cards that waive the spend requirement and give you a free night simply because you continue to be a cardholder. Failing that, we prefer cards that don't require massive amounts of spending to earn the benefit.
Restrictions on Free Night Redemption
The fine print on free-night credit cards could put a damper on your getaway plans. Specifically, many issuers restrict free night redemptions to less luxurious properties. This is usually done by assigning every eligible property a "tier" based on price and limiting redemptions to lower tiers only.
Annual Fee
Most premium travel rewards credit cards charge annual fees. These range from relatively modest (under $100) to eye-watering (approaching $1,000).
It's often possible to offset credit card annual fees through earned rewards and by taking advantage of potentially valuable perks like annual free nights. Still, our position is: the lower the annual fee, the better, and no annual fee is best of all. We make card selections accordingly.
Rewards Program
The quality of a travel credit card's rewards program has a big impact on its overall value. Most of the credit cards on this list generously reward hotel purchases or travel purchases more generally, and a few have nontravel bonus categories that further enhance their rewards programs' value.
All else being equal, we prefer hotel credit cards that reward spending on things other than only hotel stays.
Other Hotel Benefits
A free night is a fantastic benefit, but why stop there? Many premium hotel rewards credit cards offer other benefits for loyal guests too. These include but aren't limited to:
Complimentary membership in the co-branded hotel's loyalty program, often at a higher tier than entry level
Property credits — often $100 per stay — that can be applied to paid services like spa treatments and rentals
General statement credits against hotel bookings, usually reset annually
Special perks with your stay, such as complimentary breakfast or welcome gifts
Preferred rates or rooms at eligible properties
The more generous these benefits, the better the card, in our book.
Other Travel Benefits
Many of these cards also offer general travel benefits with impressive potential value. These include:
General annual statement credits against eligible travel purchases
Complimentary airport lounge access for the cardholder and guests
Complimentary membership in other travel loyalty programs
Exclusive perks and benefits with other travel vendors, such as car rental companies
Discounts or rewards with local travel providers, such as Uber and Lyft
Again, the more impressive the benefit lineup, the better we consider the card to be.
---
Free Hotel Night Credit Card FAQs
You have questions about credit cards that promise free nights at your favorite hotels. We have answers.
Can You Get a Free Hotel Night Credit Card With Bad Credit?
Never say never, but your chances aren't good. Premium travel rewards credit cards generally require good or excellent credit. If your FICO credit score is under 700, you'll find your pickings slim.
Don't lose hope altogether. Apply for a credit card you're more likely to qualify for, like a secured credit card or entry-level cash-back credit card. Use this card responsibly and pay your balance on time to build credit over time. Sooner than you think, you may be eligible for a much more generous credit card.
Do You Need a Credit Card to Get a Free Hotel Stay?
No, but it could be the quickest way to make it happen.
If you're a member of a hotel brand's loyalty program, you'll earn rewards points on every stay — with or without a co-branded credit card. Eventually, you'll earn enough points to cover the cost of a night's stay. If you don't want to wait, you can subsidize the cost, using your points to pay less out of pocket.

A free-night credit card with no spend threshold dispenses with the purchase requirement, of course. So getting a credit card that automatically gives you a free night as long as you're a cardholder in good standing is the easy, lower-cost path.
What's the Best Hotel Brand for Free Nights?
One measure of a free night reward's quality is how widely you can use it.
Hotel brands with fewer properties overall naturally have fewer options for exercising your right to a free room. Likewise, hotel brands that restrict how you can use your free night — usually through tier restrictions or blackout dates — aren't ideal.
Always read the fine print on your card's free night benefit. If you're not sure you'll be able to take advantage of it due to those restrictions, consider another option.
How Much Do You Need to Spend to Get a Free Hotel Night?
As little as nothing. The best hotel credit cards for free nights don't impose spending requirements for this benefit — you simply get a free night (or more) each year you stick with the issuer.
Otherwise, free-night spend requirements vary widely but are often pretty steep. Expect to spend at least five figures in a calendar year or card anniversary year — and maybe well into five-figure territory — before you can claim your reward.
---
How to Choose the Best Credit Card for Free Hotel Nights
To choose the best free-night card, consider your top travel and spending priorities, along with your ability to meet any spend requirements to qualify for the free night. Ask yourself:
Whether you're loyal enough to any particular hospitality brand to go after their co-branded card(s), regardless of what the annual free night award or other benefits look like
How widely you'd like to be able to redeem your free night
How well each candidate card's rewards program lines up with your spending habits
What other hotel and travel benefits each card offers
Whether you'll earn enough benefits, including the free night, to justify the annual fee and other card fees
There's no wrong answer here. But you do want to make sure you can get the most out of your hotel credit card.