This year has seen a huge shift in white-collar work away from the office and into the home. According to a Gallup poll, the average number of workdays Americans worked remotely per month has more than doubled, from 5.8 in the fall of 2019 to 11.9 in summer 2020.
Many are discussing whether or not this could be a permanent change. With more companies now offering work-from-home flexibility as an option, hiring managers will have to demonstrate an attractive remote culture to remain competitive in this new employment landscape.
It's not enough to simply allow flexible work; companies have to demonstrate a culture that actively caters to remote employees' unique needs. To determine which employee benefits are most important to remote workers, we asked 1,500 Americans which perks they prioritize when considering a full-time remote work position. We found:
The most important remote benefit by far is work hours flexibility, which 52% indicated was their top priority in considering a work-from-home position.
Nearly 20% said a strong remote team culture was the most important factor when considering a remote position.
The least important priority for nearly all respondents was home office "extras," like snacks, drinks, and office supplies.
Over Half Say Flexible Hours Are Their #1 Remote Work Priority
Companies making the switch to accommodate remote work should also accommodate the flexible hours expected to go with it.

Motley Fool Stock Advisor recommendations have an average return of 618%. For $79 (or just $1.52 per week), join more than 1 million members and don't miss their upcoming stock picks. 30 day money-back guarantee. Sign Up Now
More than half of survey respondents (52%) said flexible hours were the most important benefit of a remote work position. Men and women across all age demographics named flexible work hours their top priority by a substantial margin.
Interestingly, the average workday is now longer than it was before the pandemic by about 48 minutes, according to the National Bureau of Economic Research. Companies can rest assured, then, that time flexibility does not correlate to low productivity — as the data shows, the opposite is true.
Nearly 1 in 5 Prioritize Remote Team Culture Over All Else
Among those respondents who did not select flexible hours as their top priority, a strong work-from-home culture claimed the No. 1 spot, with 17% saying a strong remote team structure was their most important factor in considering a remote position.
Fostering a strong team culture without time spent face-to-face is one of companies' biggest challenges when building a full or even partial remote structure. Poorly constructed remote teams can experience a range of issues, from a lack of friendly connection between colleagues to a communication breakdown on work tasks.
This may explain why, in a second 1,500-person survey conducted by Money Crashers, 42% of respondents said they would not choose to work from home full time, even if their current job made it possible. That's in stark contrast to a 2019 Buffer report that found 99% of respondents would like to work remotely at least some of the time for the rest of their careers.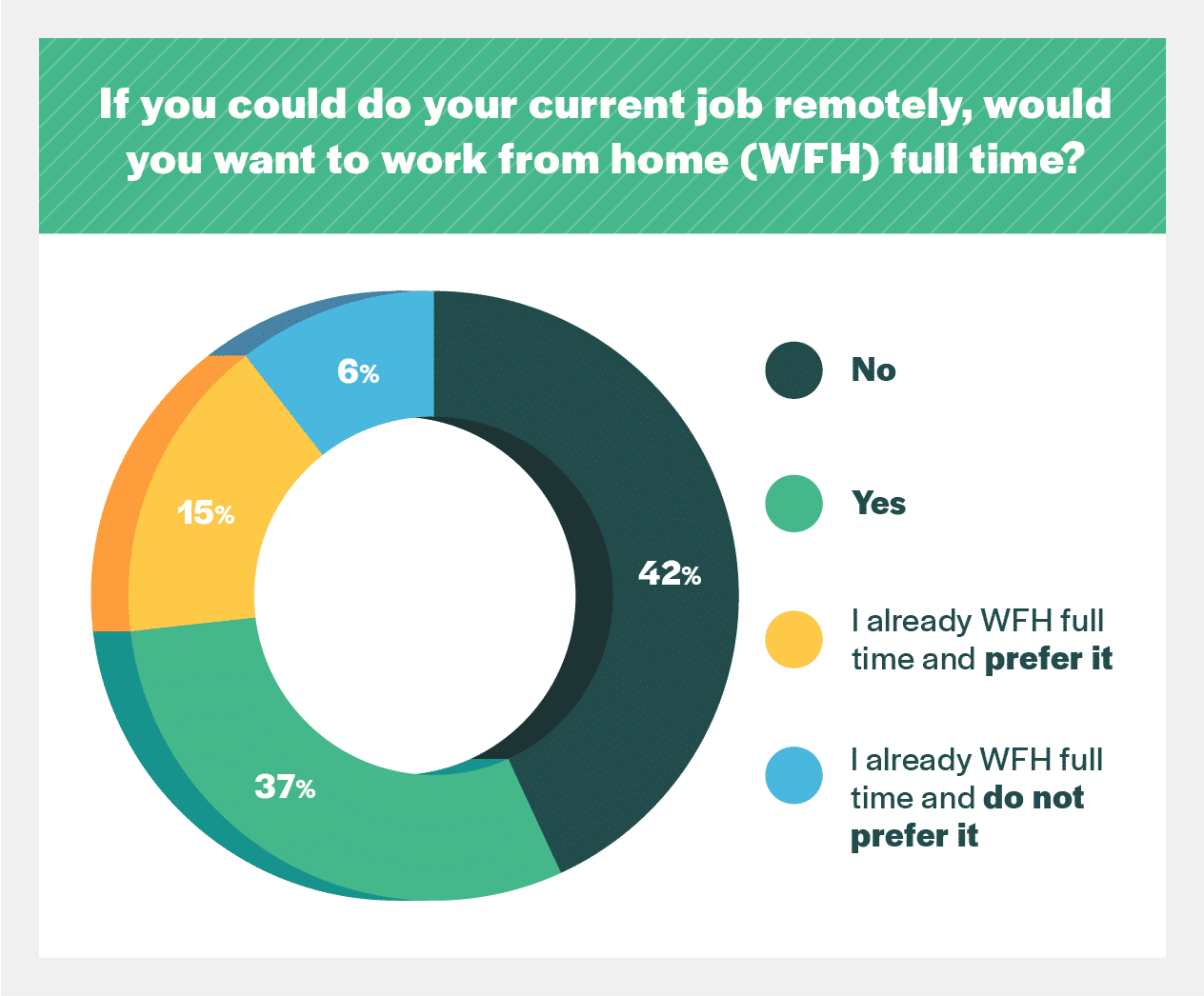 The key differentiating factor between our survey and Buffer's is whether remote work is done some of the time or all of the time. This reinforces our earlier findings that Americans prioritize flexibility over all else. While nearly all Americans want the option to work from home, fewer than half want to detach from the office entirely.
Remote Workers Don't Care for Surface-Level Perks
Nearly all respondents selected home office "extras" like snacks and office supplies as their lowest priority.
These findings align with the ongoing trend in pushback toward "cool" company perks like on-premises beers and open-office plans, which are often offered at the expense of more meaningful benefits like comprehensive health care and better work-life balance.
While a 2018 study by corporate mentorship program SCORE found that 53% of employees said workplace perks increased their quality of life, respondents also indicated that not all perks are considered equal. While 88% valued flexible hours, 80% prioritized more vacation time, and 80% wanted work-from-home options, only 32% said free snacks contributed significantly to their employer choice.
Final Thoughts
As formerly traditional office-bound companies adjust to the possibility of long-term remote work needs, business leaders should prioritize building a strong and supportive remote-inclusive company structure that can accommodate the flexibility employees crave. Studies increasingly show that increased trust in employees' ability to self-manage does not contribute to lower productivity. Companies can only gain from offering workers the ability to adapt their at-home workday to the demands of daily life.
Methodology
This study was conducted for Money Crashers using Google Consumer Surveys. The sample consisted of no less than 1,500 completed responses per question. Post-stratification weighting has been applied to ensure an accurate and reliable representation of the total population. The survey was conducted in September 2020.