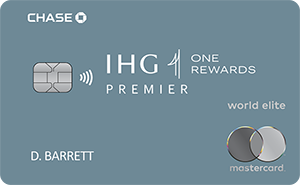 Pros
Generous sign-up bonus
Automatic Platinum Elite status upgrade
Discounts on point purchases with your card
Cons
Has an annual fee ($99)
Inflexible redemption options
Limited travel benefits outside the IHG ecosystem
Do you travel often? Do you tend to stay in the same hotels, or at least at properties operated by the same hotel brands, when you do?
If so, you could benefit from a co-branded hotel rewards credit card that zooms you toward elite loyalty status with your favorite hospitality family and earns points you can redeem for free stays down the line.
One of my favorite co-branded hotel credit cards is the IHG One Rewards Premier Credit Card. Find out why and decide whether it deserves a place in your own wallet.
What Is the IHG One Rewards Premier Credit Card?
The IHG One Rewards Premier Credit Card from Chase is a hotel rewards credit card with a $99 annual fee. It's ideal for frequent travelers who regularly stay with InterContinental Hotel Group brands, which includes thousands of Holiday Inn, Staybridge Inn, and Candlewood Suites properties in the U.S. and around the world.
Every purchase with this card earns points that can be redeemed for hotel stays at thousands of IHG properties worldwide, usually at rates ranging from $0.005 to $0.01 per point. Cardholders in good standing also get a host of useful perks at IHG hotels, including 1 reward night per year and automatic upgrade to Platinum Elite status, which accelerates point earnings and entitles members to complimentary room upgrades.
If you're interested in alternatives to IHG Rewards Premier, look to hotel-specific rewards cards such as Marriott Bonvoy Boundless™ Credit Card from Chase. It may also be worth considering airline-specific credit cards such as United Explorer Card and general-purpose travel cards such as Chase Sapphire Preferred.
---
What Sets the IHG One Rewards Premier Credit Card Apart?
The IHG One Rewards Premier Credit Card has a few noteworthy features that, if not entirely unique, are definitely worth writing home about:
Amazing Sign-up Bonus. This card has one of the best sign-up bonuses in the entire credit card space. It's absolutely worth shooting for if you can comfortably clear the required spend.
Anniversary Free Night Each Year. This benefit's actual value depends on when and how you redeem, but it's potentially significant — enough to offset the annual fee and then some.
Automatic Platinum Elite Status. This is not some entry-level status benefit. It's the real deal, something that can make your time at IHG properties much more comfortable and rewarding.
4th Night Free on Eligible Reward Stays. Book a reward stay of at least 4 nights, get the 4th night free. Or, put another way, book a 3-night stay and stay an extra day because why not?
---
Key Features of the IHG One Rewards Premier Credit Card
These are the most important features of the IHG One Rewards Premier card.
Sign-up Bonus
Earn 140,000 Bonus Points after spending $3,000 on purchases in the first 3 months from account opening.
Earning IHG Rewards Points
This card earns rewards at these rates:
Every $1 spent at IHG properties earns up to 26 points, depending on your status tier.
Purchases made on travel, restaurants, and at gas stations earn unlimited 5 points per $1.
All other purchases, including hotel stays at non-IHG hotels, earn unlimited 3 points per $1.
Redeeming IHG Rewards Points
Points can be redeemed for free hotel stays at IHG properties, starting at a minimum of 10,000 points for lower-tier properties and 70,000 points for the highest-tier properties. If you don't have enough points to pay for a full night's stay, you can purchase up to 10,000 additional points at $0.007 apiece ($70 maximum) through IHG's Points & Cash option. Redemption thresholds are subject to change at any time.
At redemption, point values usually range from $0.005 to $0.01, sometimes more or less. Points don't expire as long as you redeem any or earn more – through card purchases or hotel stays – within any 12-month period.
4th Reward Night Free
When you book a reward stay of 4 nights or longer (paid entirely with points), you automatically get a free reward night. That is, you can redeem a 4-night trip with rewards and only "pay" for the first 3.
Annual Spend Bonus
When you spend at least $20,000 in purchases and make one additional purchase within the same calendar year, you get an additional 10,000 bonus points plus a $100 statement credit.
Point Purchase Subsidy
Enjoy a 20% discount on the purchase of IHG points with your IHG One Rewards Premier card.
Anniversary Reward Night
Every year, you get 1 reward night good for use at thousands of properties worldwide. Redeeming your reward night doesn't cost any points, but you don't earn any additional points for the stay.
Platinum Elite Status Upgrade
As long as you remain a cardmember in good standing, you enjoy IHG Automatic Platinum Elite status. You do have to formally apply for this status after you receive your card, but it doesn't cost anything to do so.
Platinum Elite status confers numerous benefits:
Priority check-in
Complimentary room upgrades whenever available
Guaranteed room availability with at least 72 hours' advance notification
50% point-earning bonus for all IHG hotel stays – for instance, a stay that would have earned 2,000 points earns 3,000 with Platinum Elite status
Important Fees
The annual fee is $99. There are no foreign transaction fees. Balance transfers cost the greater of $5 or 5% and cash advances cost the greater of $10 or 5%.
Credit Required
This card requires good or excellent credit.
---
Advantages of the IHG One Rewards Premier Credit Card
Here's why you might want to apply for the IHG One Rewards Premier Credit Card.
Generous Sign-up Bonus. This card has one of the most generous sign-up bonuses in the hotel rewards category – particularly at this relatively modest price point.
Automatic Platinum Elite Status Upgrade. The IHG One Rewards Premier Card comes with an automatic upgrade to Platinum Elite status, IHG's second-highest frequent traveler status. Platinum Elite entitles you to 50% faster point earnings when you stay at IHG hotels, complimentary room upgrades whenever available, 72-hour guaranteed availability, and other perks. This benefit doesn't cost anything extra, and its value is potentially huge for frequent travelers. By contrast, Marriott Bonvoy Boundless cardholders only earn Silver Elite status, a lower frequent traveler level that doesn't include complimentary room upgrades, guaranteed room availability, or 50% faster point earnings.
Save 20% on Purchases When You Buy Points With Your Card. If you need to buy additional IHG points with your card, you'll save 20% on face value – not a bad subsidy for your award travel.
Enjoy a Free Night Each Year After Your Cardmember Anniversary. Each year your account remains open and in good standing, you qualify for a complimentary reward night to enjoy at IHG hotels worldwide. That's potentially hundreds of dollars in value each year, depending where and when you redeem.
5x Points Categories Are Broad. The IHG One Rewards Premier Card's categories that reward 5 points per $1 spent cover broad, everyday expenses: gas, travel, and restaurants. This is a big advantage for frequent travelers seeking a boost on everyday spending.
No Foreign Transaction Fee. IHG One Rewards Premier cardholders don't have to worry about foreign transaction fees. That's great news for cardholders who regularly travel abroad. By contrast, Citi Hilton Honors Visa Signature has a 3% foreign transaction fee.
---
Disadvantages of the IHG One Rewards Premier Credit Card
Consider these drawbacks before you apply for this card.
Has an $99 Annual Fee. This card's $99 annual fee may deter budget-conscious travelers.
Inflexible Redemption Options. While you can redeem your IHG One Rewards points at more than 5,000 properties worldwide, there's not much else you can do with them. You can't redeem them for merchandise, statement credits, gift cards, or even incidental purchases at participating hotels. Citi Hilton Honors Reserve allows you to redeem for hotel incidentals, while U.S. Bank FlexPerks Travel Rewards allows you to redeem for general merchandise and cash equivalents, such as gift cards and statement credits, in addition to travel purchases.
Limited Travel and Experience Benefits. Although it does come with an automatic upgrade to Platinum Elite status, the IHG One Rewards Premier Card offers few travel and experience benefits not directly related to IHG hotels or the rewards system. For instance, it doesn't have a concierge service, travel protection insurance, or exclusive/VIP event access (these things aren't included in Platinum Elite status). On the other hand, Citi Hilton Honors Reserve comes with 24/7 travel booking assistance and exclusive access to a raft of special events, such as concerts and sports contests.
Potentially Low Point Values at Redemption. Although the value of IHG Rewards points varies based on the monetary cost of the hotel stay for which they're redeemed, the range generally works out to $0.005 to $0.01, and IHG charges $0.007 per point when purchased through Points & Cash. By contrast, points accumulated with Chase Sapphire Preferred are worth up to $0.0125 when redeemed for travel at Chase's Ultimate Rewards portal.
---
Final Word
InterContinental Hotel Group isn't a well-known name, but some of its hotel brands certainly are. If you've ever stayed at a Holiday Inn, Holiday Inn Express, or any other related property, you've stayed at an IHG hotel. Depending on how often you travel and how frequently you encounter IHG-branded properties along the way, this could be a powerful rewards card to keep in your wallet – even if you use another product, such as an airline rewards or cash back rewards card, as your primary card.
On the other hand, the IHG® One Rewards Premier Credit Card isn't great for infrequent travelers, cardholders who prefer not to deal with annual fees, cardholders who prefer more flexible rewards programs with a wider variety of redemption options, and travelers looking for value-added perks such as concierge service and VIP access. Of course, if you prefer another hospitality family – say, Hilton or Marriott – there's sure to be a suitable card for you as well, as many other hotel rewards credit cards are available.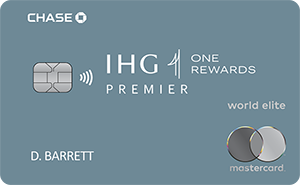 Pros
Generous sign-up bonus
Automatic Platinum Elite status upgrade
Discounts on point purchases with your card
Cons
Has an annual fee ($99)
Inflexible redemption options
Limited travel benefits outside the IHG ecosystem
Editorial Note: The editorial content on this page is not provided by any bank, credit card issuer, airline, or hotel chain, and has not been reviewed, approved, or otherwise endorsed by any of these entities. Opinions expressed here are the author's alone, not those of the bank, credit card issuer, airline, or hotel chain, and have not been reviewed, approved, or otherwise endorsed by any of these entities.