According to Experian's 2019 State of Credit study, the average U.S. consumer's FICO score — a popular consumer credit score — hit a record high of 703 in 2019, measured on a scale of 300 to 850. Fewer than 100 points separate the cities with the country's highest and lowest average FICO scores, indicating that many consumers' scores cluster tightly around the national mean.
You shouldn't feel discouraged or ashamed by a credit score that's significantly below the national average due to high credit utilization or late payments in the past, nor a credit report that reflects past financial difficulties. However, even fair credit — and certainly poor credit — often has real-world consequences.
If you don't take steps to build your credit over time and boost your credit score, you could find yourself face to face with some of the negative consequences of bad credit.
Best Credit Cards for Bad Credit
These are the best credit cards for people with bad credit.
Each does at least one thing really well, whether it's allowing carried balances at surprisingly low interest rates or paying out relatively generous rewards. Our top pick offers the best value for the greatest number of would-be users.
---
The Credit One Bank® Platinum Visa® for Rebuilding Credit has it (almost) all:
A generous cash-back program — 1% cash back on eligible purchases
Up to 10% on purchases with select merchants
Rewards post automatically to your account balance each month
Lax underwriting requirements that make it appropriate both for applicants with impaired credit and those seeking to build credit for the first time
No security deposit required
Automatic consideration for credit line increases with responsible use and timely payment
Plus, Visa underwrites perks like complimentary travel accident and auto rental collision insurance coverage. All in all, this is a great starter credit card for people with bad credit.
Learn More About Credit One Bank Platinum Visa
---
The Capital One QuicksilverOne® Cash Rewards Credit Card is an unsecured credit card that's appropriate for people with less-than-perfect credit — though not for people with truly impaired credit and those who've recently declared bankruptcy.
It's also the best pure cash-back rewards credit card featured here. It earns an unlimited 1.5% cash back on all purchases all the time, with no limits on how much you can earn.
Additional features:
Redeem for statement credits or bank account deposits once you accumulate $25 in cash-back rewards
Minimum credit limit of $300
Get a higher credit line if you make on-time payments for 5 consecutive months
$39 annual fee
No foreign transaction fees
Free monthly access to your FICO score via Capital One's Credit Tracker feature
Learn More About the Capital One QuicksilverOne Card
---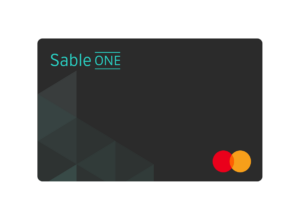 The Secured Sable ONE Credit Card caters to a wide range of potential cardholders, including:
New arrivals to the U.S. without any U.S. credit history
U.S. citizens and permanent residents with impaired credit
Folks looking to rebuild credit after adverse events like bankruptcy
But its biggest distinguishing feature is its relatively low regular APR: the Prime rate plus 6.99%. That's much lower than most other secured credit cards.
While it's never wise to carry monthly credit card balances if you can avoid it, financial emergencies do sometimes happen — and the Secured Sable ONE Credit Card is your best option if and when they do.
Additional features:
Pathway to unsecured status in as little as 4 months with responsible card use
$25 bonus for new cardholders who boost their credit score to 700 or higher within 12 months
Earn 2% cash back on everyday purchases with participating merchants, including Whole Foods, Amazon.com, Uber, Uber Eats, Netflix, and Spotify
All other eligible purchases earn 1% cash back
No annual fee
No foreign transaction fee
Complimentary cell phone protection for eligible loss and damage (such as cracked screens) and car rental insurance coverage
Learn More About the Secured Sable ONE Credit Card
---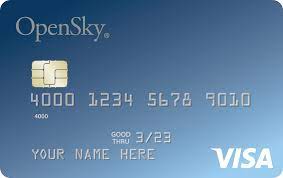 The OpenSky® Secured Visa® Credit Card doesn't require a credit check with your application, meaning your application won't be denied on the basis of your credit score alone. And that makes OpenSky Secured a strong choice if you have poor or nonexistent credit.
Additional features:
Requires an upfront refundable deposit of at least $200 and as much as $3,000
Your credit limit is always equal to your deposited amount
Regular reporting to all three major credit reporting bureaus
To get your security deposit back, pay off any outstanding balance and close your account
0% APR on purchases for 3 months from account opening
$35 annual fee
3% foreign transaction fee
Learn More About the OpenSky Secured Visa
---
Petal credit cards are issued by WebBank, Member FDIC.
The Petal® 1 "No Annual Fee" Visa® Credit Card also doesn't require credit underwriting, though it does check applicants' credit reports when available. For those without lengthy credit histories, Petal uses nontraditional cash flow underwriting to assess likelihood of repayment.
Where Petal 1 really shines, though, is on the credit limit side. If your income and credit qualify you, you can get a credit limit as high as $5,000 here — much higher than most other cards for people with less-than-perfect credit.
Additional features:
No annual fee
Variable APRs ranging from 25.24% to 34.74%
Minimum credit limit of $300
2% to 10% cash back from select merchants
No international fee
Learn More About the Petal 1 "No Annual Fee" Card
---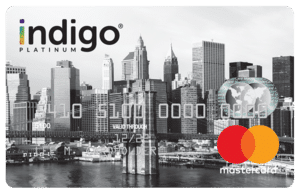 The Indigo® Platinum Mastercard® has an unusually smooth underwriting process that results in rapid pre-qualification with no hard credit pull required. But its key differentiator is the fact that it's unsecured — a welcome change for applicants who've long expected to put down a security deposit to get that first credit-building card.
Additional features:
Annual fee ranges from $0 to $99, depending on creditworthiness and other factors
Free custom card design
Value-added benefits underwritten by Mastercard
Learn More About the Indigo Platinum Mastercard
---
Methodology: How We Select the Best Credit Cards for People With Bad Credit
We use several important factors to credit cards for people with bad credit and select the very best. Each of the criteria on this list relates to the cards' fees and other costs, their usability, and the overall value they provide for users.
Security Deposit Requirements
Many of the cards on this list require you to put down a security deposit before you can use the card. Usually, the deposit corresponds to your approved credit limit, but sometimes you can get away with putting down less.
Unsecured credit cards don't require security deposits. If you don't have any savings to cover the security deposit, that might be a better option for you.
Credit Limits
Credit cards for people with bad credit generally have low starting credit limits. As you prove your ability to manage credit responsibly and make timely payments, you may qualify for a credit line increase. That said, we're fans of credit cards with higher starting credit limits, even for people with less-than-perfect credit.
Annual Fees
Many credit cards for people with bad credit charge annual fees. These are usually modest relative to the annual fees charged by premium and super-premium credit cards, which can cost hundreds of dollars per year. But they still add to the cost of keeping the card around.
Other Fees
These credit cards may charge other fees as well, such as fees for cash advances, balance transfers, and foreign transactions. We prefer cards that keep these fees to a minimum, though it's difficult to avoid them completely in the subprime credit card space.
Interest Rate
Subprime credit cards tend to charge higher interest rates than credit cards for people with good credit. However, a notable few market themselves as low APR credit cards, encouraging users to carry balances from month to month. While you shouldn't carry a credit card balance simply because the interest rate isn't exorbitant, it's nice to have the option in an emergency.
Bonuses and Rewards
Most of the credit cards on this list don't have rewards programs, sign-up bonuses, or other incentives to spend. But some entry-level cash-back credit cards do cater to people with fair or even impaired credit, offering a chance to earn a small return on spending as you build credit.
Subprime Credit Card FAQs
You have questions about credit cards for people with bad credit. We have answers.
Should You Apply for a Credit Card If You Have Bad Credit?
If you already have a large debt load and are struggling to pay your bills each month, adding another line of credit to your balance sheet likely isn't a smart move. Credit counseling or debt management may be a better fit for your situation.
Likewise, if you've recently declared bankruptcy or have a truly abysmal credit score, you're unlikely to be approved for any of the cards on this list. It's better to focus on making timely payments on your current obligations, such as utility bills and monthly rent, and reducing your credit utilization ratio.
Ultimately, you want your credit report to reflect a longer period of good credit habits. Once you prove to the major credit bureaus (and future creditors) that you're capable of responsible borrowing, these credit cards await.
What Kinds of Credit Cards Can You Get With Bad Credit?
If your credit is fair or poor, you shouldn't expect a gilt-edged credit card with an astronomical spending limit, lavish rewards, and VIP benefits. You might have to accept relatively high fees and high interest rates (albeit with a variable APR that could decrease as your credit improves).
But you certainly could qualify for a credit card designed to help you build credit and raise your credit score, even if you have a limited credit history.
The credit card offers on this list are all designed to do just that: assist in building credit history and improving credit overall. Many are secured credit cards that require an initial deposit, often equal to the card's credit limit, before first use.
How Does a Credit Card Help You Build Credit?
Most of the cards on this list report monthly payments to all three major credit bureaus, and many automatically consider customers for credit line increases after several consecutive on-time, in-full payments.
When used responsibly and paid on time, these cards serve as stepping stones to credit cards with higher spending limits, lower APRs, and better cash-back rewards, travel rewards, or hotel rewards. Other lenders are sure to take notice of your improved credit performance too.
Do You Have to Put Down a Security Deposit to Get a Credit Card If You Have Bad Credit?
Not necessarily. Some of the cards on this list are unsecured, which means they don't require a security deposit before you can begin using them.
However, unsecured credit cards for people with bad credit generally have relatively high APRs and low credit limits. These limitations should serve as reminders that it's always better to pay off your balances in full each month.
How to Choose the Best Credit Card If You Have Bad Credit
If you have impaired or spotty credit, you know that your credit card options are limited. But as this list makes clear, you still have good options for that first credit card (or first credit card in a while).
Your choice of card depends first and foremost on how bad your credit really is. If you've just emerged from bankruptcy or have a very low credit rating (a FICO score below 580), you'll have fewer options. Look for credit cards that don't check applicants' credit at all or don't care if you've recently been in bankruptcy.
If your credit score is a bit better — in the "fair" range between about 620 and 660 — you'll have more choice. You may qualify for entry-level rewards credit cards and probably won't have to make a security deposit if you don't want to.