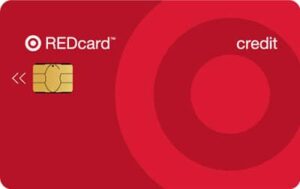 Target REDcard™ Credit Card
Welcome Offer: None
Rewards: 5% off purchases made at Target stores and Target.com, subject to certain restrictions
Fees: Returned payments cost $27; late payments cost $37
Annual Fee: $0
Credit Needed: Good
If you've spent money at your local Target or Target.com anytime over the past few years, you've likely heard of Target REDcard, a family of debit and credit store cards that reward loyal Target customers with automatic discounts at checkout.
The Target REDcard™ Credit Card is the credit card version of the REDcard. It's a no-annual-fee product that earns an across-the-board 5% discount on spending at Target stores and Target.com. Unfortunately, it's not accepted outside the Target ecosystem, making it inappropriate for infrequent Target shoppers and not at all suitable for general spending.
The Target REDcard Credit Card is a bare-bones credit card, with few of the frills associated with more versatile cash back credit cards. But, if you're looking for a way to stretch your Target dollars further, it's hard to do better.
Key Features
Discount Rewards Program
The Target REDcard Credit Card confers automatic, immediate 5% discounts on most spending at physical Target locations and Target.com, subject to certain important restrictions and limitations. Key transaction types that do not qualify for the 5% discount include:
Spending at restaurants inside Target, such as Pret A Manger and Freshii (though cardholders do get a 5% discount on purchases at Starbucks locations inside Target stores)
Eye exams at Target Optical
Prescriptions ordered and picked up at Target pharmacies
Gift wrap purchases
Wireless protection program payments and carrier-required deposits
Beyond these categories, there is no hard cap to the total value of discounts you can rack up in a given month or year. If you split payments for a single transaction between your REDcard and another form of payment, you only earn the discount on the balance paid with your REDcard.
Again, REDcard isn't accepted at non-Target vendors.
Additional Benefits
The Target REDcard Credit Card comes with some crucial additional benefits.
Free Standard 2-Day Shipping: Cardholders who pay with REDcard get free standard 2-day shipping on orders from Target.com, provided the shipping address is in the United States or Puerto Rico, or in the APO/FPO system. Upgraded (expedited) shipping still incurs shipping fees.
Extended Return Windows: Cardholders enjoy extended return privileges, meaning they have 30 extra days to return purchased items after the regular return window expires. This benefit does not apply to nonreturnable items, Target Mobile purchases, and items with a fixed return date.
Target Subscription Savings: When you subscribe to receive select essentials on a recurring basis, you get an additional 5% off (on top of the 5% REDcard discount).
Clearance and Top Deals Savings: You'll also get 5% off clearance-marked items and weekly Top Deals items, both on top of the 5% REDcard discount.
Specialty Gift Cards: You'll save 5% on specialty gift cards for restaurants, travel, and other items, plus your standard 5% REDcard discount.
Cartwheel: Use Cartwheel to save up to 50% on select items, plus the standard 5% REDcard discount.
Important Fees
This card has no annual fee, foreign transaction fee, balance transfer fee, or cash advance fee. Late payments cost $37, while returned payments cost $27.
Credit Required
This card requires good credit. Major credit blemishes are likely to disqualify your application, but minor issues may be acceptable.
Advantages
No Annual Fee. The Target REDcard Credit Card doesn't charge annual fees, so they're great for frugal shoppers who want to maximize the value of their discounts. If you have access to a Target, but don't shop there every week, there's no downside to keeping this card in your wallet for those occasional Target runs.
Great Discount Rate. This card's headline discount rate of 5% is excellent. Basically, for every $100 you spend at Target, you get $5 extra. That's better than the vast majority of cash back credit cards, as well as many competing retail and gas station credit cards.
Immediate Discounts at the Register or Online Checkout. You don't have to wait to enjoy this card's rewards. Every time you swipe it at the register or enter its digits at Target.com checkout, you get 5% off your order. Some other retail cards, including Sam's Club Mastercard and Costco Anywhere Visa, force you to accumulate your rewards throughout the year and redeem them all at once in a single shopping trip.
No Limit to Discount Size. This card's discounting power is unlimited – there's no limit to the number or size of transactions to which its 5% discount applies. Some cash back cards limit spending in favored cash back categories to $6,000 to $10,000 per year, while some gas cards limit the number of gallons to which their discounts apply. Both limitations can be problematic for heavy spenders.
Free 2-Day Shipping From Target.com. If you're a frequent Target.com shopper, you'll love this card's free 2-day standard shipping perk. Fellow store cards, including offerings from Sam's Club and Costco, don't offer free shipping.
Extended Return Period. This card gives you more time to try out larger purchases before fully committing to keep them. That's particularly nice for cardholders who don't make it to Target stores very often.
Disadvantages
No Acceptance at Non-Target Vendors. Target REDcard's biggest drawback is the fact that it isn't accepted at non-Target vendors. If you're looking for a general-spending credit card that rewards you for purchases at a wide range of vendors and retailers, you need to keep looking.
No Introductory 0% APR Promotion. This card doesn't have an introductory APR promotion for purchases or balance transfers. If you're looking for a card with a long 0% APR interest window that allows you to finance large purchases or pay down existing high-interest balances, try the Chase Slate Credit Card or Citi Simplicity Credit Card.
No Balance Transfers or Cash Advances. You can't make balance transfers or draw cash advances with your Target REDcard. That's a drawback relative to most cash back credit cards, including Chase Freedom.
Some Important Limitations to 5% Discounts. This card offers a 5% discount on most – but not all – Target purchases. Notable exemptions include pharmacy purchases, purchases at in-store optical centers, purchases at restaurants housed within Targets (such as Freshii and D'Amico & Sons), and gift cards. If Target is your go-to pharmacy or eye care provider, or if you're a big fan of Target gift cards, these limitations could eat into your card's earning power.
Final Word
Though it's far smaller than Walmart (its principal rival), Target counts millions of Americans as fans. Over the years, it has cultivated a well-deserved reputation for curating a great selection of quality clothing and home goods, in addition to offering competitive pricing for more humdrum household staples.
However, Target operates in a highly competitive industry and isn't immune to missteps. Target's attempt to break into the Canadian retail market failed quickly and spectacularly, as it shuttered more than 100 stores and destroyed thousands of jobs in a matter of months. And a massive data breach in 2013 exposed tens of millions of shoppers' personal data, creating a massive PR headache that lingers to this day.
Given Target's uneven recent history, it's understandable that some consumers would be reticent to share more information than necessary with the retail giant. If you're a regular Target customer whose hunger for a 5% discount on most in-store and online purchases outweighs your concern about privacy and security, the Target REDcard™ Credit Card offers great value. If you're not a past or present fan of Target, no problem – the world doesn't lack for great retailers, nor great retail credit cards.
The Verdict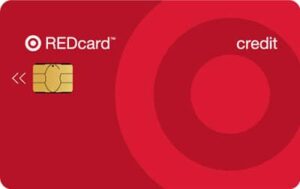 Target REDcard™ Credit Card
The Target REDcard™ Credit Card is ideal for frequent Target shoppers looking to save on purchases at Target stores and Target.com. Due to relatively loose underwriting requirements, it's a nice stepping stone to bigger and better credit cards for applicants in the process of rebuilding credit.
By the same token, this card isn't appropriate for consumers who shop at Target only infrequently, nor those who can't be bothered to keep a separate credit card just for Target purchases.
This card's benefits include the lack of an annual fee, high headline discount rate, an immediate discount application at checkout, no limits on the discount reward, free shipping from Target.com, and extended return privileges.
Its drawbacks include the fact that it isn't accepted at non-Target vendors, no introductory APR promotion, the lack of balance transfers and cash advances, and key limitations to the 5% discount rate.
Overall, this is a great card for frequent Target shoppers, but its appeal is limited or nonexistent for everyone else.
Editorial Note: The editorial content on this page is not provided by any bank, credit card issuer, airline, or hotel chain, and has not been reviewed, approved, or otherwise endorsed by any of these entities. Opinions expressed here are the author's alone, not those of the bank, credit card issuer, airline, or hotel chain, and have not been reviewed, approved, or otherwise endorsed by any of these entities.