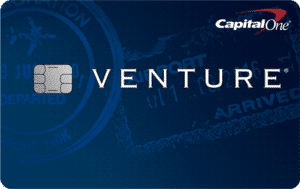 Capital One Venture Rewards Credit Card
Early Spend Bonus: Earn 75,000 bonus miles when you spend $4,000 in 3 months, worth $750 at redemption
Rewards: Unlimited 2 miles per $1 spent on most purchases; 5 miles per $1 spent on hotel and rental car purchases made through Capital One Travel
Benefits: Up to $100 credit for Global Entry or TSA PreCheck; Visa Signature benefits such as extended warranties, shopping discounts, complimentary car rental insurance, travel upgrades and savings, concierge service, and more; transfer earned miles to more than 15+ travel partners
Intro APR: None
Fees: $0 foreign transaction fee
Annual Fee: $95
Credit Needed: Good to Excellent
The Capital One Venture Rewards Credit Card is a popular travel rewards card with a $95 annual fee and a very straightforward rewards system. You earn an unlimited 2 miles per dollar on every purchase, with one lucrative exception. Earned miles can be redeemed at a set rate for a range of travel purchases.
Capital One Venture Rewards is just one of many general-purpose credit cards. It's comparable to its stablemate, Capital One VentureOne Rewards, which is a no-annual-fee version of the Venture card, but with some notable differences. It also competes with non-Capital One cards with annual fees ranging from $50 to $150, including Chase Sapphire Preferred and British Airways Visa Signature.
Key Features
These are the most important features of the Capital One Venture Rewards Credit Card.
Early Spend Bonus
Earn 75,000 bonus miles after you spend $4,000 on the card within 3 months from account opening. That's worth $750 in travel expenses at redemption.
Earning Rewards
Capital One Venture Rewards earns an unlimited 2 miles per $1 spent on most purchases. Hotel and rental car purchases booked through Capital One Travel earn 5 miles per $1 spent.
There are no caps or restrictions on how much you can earn. Once earned, miles don't expire as long as your account remains open and in good standing.
Redeeming Rewards
You can redeem your accumulated rewards for travel purchases (including airfare, car rentals, other forms of ground transportation, hotel stays, and more) in 2 ways.
First, you can exchange your miles for account statement credits at a fixed value of $0.01 per point, either by manually selecting the purchase you wish to offset in your online account, or by calling Capital One's customer service hotline and doing the same. Second, you can book travel directly through Capital One's online travel portal and pay with miles instead of cash, again at a $0.01-per-point value.
If the item you're redeeming for is worth more than the cash value of your miles, you can make a partial redemption (minimum 2,500 miles) and pay the balance in cash. Capital One does allow you to redeem miles for non-travel items, including cash, gift cards, and general statement credits, but values for such redemptions vary widely, are subject to change, and are often less than $0.01 per mile.
Transfer to Travel Loyalty Partners
You can transfer your accumulated points to any of Capital One's 15+ travel merchant partners. The lineup of partners is subject to change but generally includes popular airline and hospitality brands serving the U.S. and major international markets. In some cases, transferred points can be worth significantly more at redemption than Venture miles.
Important Fees
There is a $95 annual fee. There is no foreign transaction fee.
Credit Building Tools
Cardholders get access to Capital One's CreditWise tool, entitling them to a free credit score with their monthly online or paper statements. The score is also accessible on demand through account dashboards. CreditWise includes other credit-building and -education tools as well.
Other Cardholder Benefits
This card comes with a nice lineup of other benefits, including:
Up to $100 application fee credit for Global Entry or TSA PreCheck
24/7 concierge service and assistance with complex travel bookings
Preferred access to special events, such as concerts and sporting events
24/7 emergency card replacement service when traveling
Credit Required
This card requires excellent credit. Any notable credit blemishes are likely to disqualify your application.
Advantages
Flexible Redemption Options. You can redeem accumulated miles for virtually any travel purchase, from long-distance airfare and luxury hotels, to economy car rentals and intercity train tickets. That's substantially more flexible than branded travel cards such as the American Express Delta SkyMiles Gold Credit Card and Citi Platinum Select/AAdvantage World Mastercard, which either restrict redemptions to airfare only or require you to follow complicated conversion systems (which often reduce point values) to redeem for merchandise of other forms of travel, such as hotel rooms.
No Foreign Transaction Fees. If you want to use a credit card while traveling out of the country, this is a good choice. Some other travel rewards cards charge fees on foreign transactions up to 3%.
No Penalty APR. This card charges no penalty interest. That's a big advantage for cardholders who occasionally miss payments. Some competing travel cards charge penalty interest up to 29.99% APR.
No Spending Categories. Capital One Venture Rewards doesn't have any spending categories or associated limits to keep track of. You simply earn an unlimited 2 miles per dollar spent.
Comes With a Free Credit Score and Credit Tools. This card gives you a free TransUnion VantageScore 3.0 credit score with your monthly statement and on-demand through your account dashboard. It also has one of the most comprehensive suites of credit-tracking and credit-building tools of any travel card, thanks to Capital One CreditWise.
Very Generous Early Spend Bonus. Venture Rewards' early spend bonus is one of the best in the travel rewards credit card category, period.
Disadvantages
Has an Annual Fee. This card's $95 annual fee should still be factored into how much you can gain in potential rewards. The fee is not super-high by fee-bearing travel rewards cards standards, but it's still a black mark next to the multitude of fee-free travel cards.
Limited Travel Benefits. Other than the preclearance application fee credit, Venture Rewards doesn't come with many travel benefits beyond the rewards program itself. If you're in the market for a card that offers convenient or luxurious perks in the airport, on the plane, or in the hotel, look elsewhere. Co-branded cards typically have more to offer in this area, such as in-flight food discounts, priority boarding, and discounts on companion airfare.
Miles Are Worth $0.01 Apiece When Redeemed for Travel. The Venture Rewards Card's miles are always worth $0.01 each at redemption when you redeem for travel expenses. This makes for less confusion when it comes time to redeem, but it's not ideal if your aim is to maximize the value of your accumulated miles. Whether you redeem for a trans-Pacific first-class journey or a short-haul domestic economy hop, you can always count on a straight miles-to-dollars conversion. By contrast, brand-specific rewards programs have widely variable redemption values, with miles worth substantially more (sometimes several times more) on long-haul international redemptions, compared with short-haul domestic redemptions. If your ultimate goal is a free flight to Australia or Asia, just about any brand-specific travel rewards card is superior to this card.
Requires Excellent Credit. By Capital One's own admission, this card requires excellent credit. That means it's likely not an ideal first travel rewards card, even for travelers with good to very good credit. For an entry-level travel rewards card, consider the similar Expedia+ Card, which has the added bonus of being fee-free.
Final Word
Travel rewards credit cards are frequently pigeonholed as intentionally complex, confusing, and user-unfriendly. This sweeping generalization is built around a kernel of truth: Many airline and hotel credit cards have complex redemption schemes that assign wildly variable point values depending on numerous factors, discourage participants from converting points to other rewards programs, and impose annoying restrictions such as blackout dates.
However, it's unfair to say that all travel rewards cards are complicated, particularly when popular options like the Capital One Venture Rewards Credit Card have increasingly come to dominate the category. With this card, you never have to worry about how much your miles are actually worth at redemption, or whether you're even able to redeem for a given type of travel purchase. While Venture Rewards certainly isn't the most generous travel card by any stretch, there's something to be said for its forthrightness.
The Verdict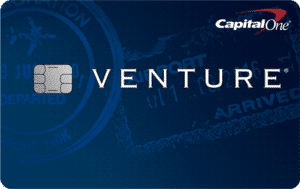 Capital One Venture Rewards Credit Card
The Capital One Venture Rewards Credit Card has a straightforward, flexible rewards program that makes it ideal for frequent travelers who spend enough to offset the $95 annual fee (waived during the first year), don't have a preferred hotel, airline, or car rental brand, and want to be able to redeem for as wide a variety of travel purchases as possible. It's not ideal for people seeking luxurious or convenient fringe benefits, nor those willing to stick with a preferred brand or brand portfolio to get better redemption deals.
Editorial Note: The editorial content on this page is not provided by any bank, credit card issuer, airline, or hotel chain, and has not been reviewed, approved, or otherwise endorsed by any of these entities. Opinions expressed here are the author's alone, not those of the bank, credit card issuer, airline, or hotel chain, and have not been reviewed, approved, or otherwise endorsed by any of these entities.