It's been said that men are from Mars and women from Venus. Their investment styles are often worlds apart as well. While there's a more even balance today when it comes to who handles household money matters, what still differs is the way the sexes approach financial planning and how they choose to invest.
A new survey by Money Crashers on the psychology of investing illustrates how men and women's styles and perceptions differ when it comes to their investments. While both sexes had similar styles in some aspects of their outlook and approach, there were also marked differences.
Here's what we learned about how men and women view investing — and how it affects their bottom line.
Summary of Key Findings
Men are two times more likely than women to believe their investment returns beat the broader stock market.
The majority of men (59%) prefer to manage their own investments, while women prefer to use a financial advisor.
Men's favorite asset class is stocks, while women prefer real estate.
Nearly three-quarters (74%) of men reported they invest in the stock market, compared to only 51% of women.
Social impact is an important consideration for female investors. Only 19% of women said they would invest in a company that was not considered socially responsible, compared to 51% of men.
Men Are Overconfident in Their Abilities
We asked American adults: How strong are your investment returns compared to the broader stock market, such as the S&P 500?
Men tended to display one of the worst pitfalls of investing: overconfidence. They were twice as likely as women to report that their returns beat the broader U.S. market.
Nearly a quarter (22%) of male respondents reported they earn returns greater than the S&P 500. By comparison, only 11% of women felt this way. This overconfidence can have serious repercussions.
In social psychology, this is known as illusory superiority. Everyone wants to be a top performer, and people often believe they possess the skills required to be above average, whether they're talking about driving a vehicle or investing. But it's mathematically impossible for most people to be above average. That means that many people who believe they possess superior skills are over-rating themselves.
And research has shown that this bias can lead to potentially destructive investment behavior. For example, a study conducted by Terrance Odean, a professor at Berkeley's Haas School of Business, found that men traded 45% more than women in the 1990's, which reduced their returns. Odean believed this behavior was due to overconfidence. In a paper he authored with Brad B. Barber, the two explained that this tendency can often lead to over-trading and higher transaction costs, which can negatively impact any bottom line.
In Reality, Female Investors Outperform Men
Although men are more likely to think they're better-than-average investors, research suggests that female investors actually outperform men. A 2017 study by Fidelity Investments found that, on average, women outperform men by 40 basis points, or 0.4%, per year. That may seem like only a minor difference, but over time, it can have a significant impact on returns.
Fidelity also found that even on a basic level, women invested more — and more consistently. For instance, women "saved a higher percentage of their paychecks than their male counterparts at every salary level," despite considering themselves to be less astute investors.
Fidelity notes that "many of the characteristics some view as being inherently female are actually factors that may be helping women see strong returns on their investments." For example, women tend to take fewer risks than men and choose more diversified plans overall. And as the results illustrate, consistency is a clear winner over bravado when it comes to investing.
Women Seek Expert Help; Men Prefer DIY
Deciding who will be responsible for your life savings is a deeply personal decision. We were curious about how men and women differ on this important subject. So we asked them.
More than half (59%) of male respondents said they would prefer to manage their own investments. That may be because men believe they can control investment outcomes more than they actually do. In other words, they might overestimate their skills at determining the best investment opportunities or approaches.
By contrast — and along the lines of classic gender role perception — women are more willing to ask for help. Overall, 47% of women said they would prefer to have a financial advisor manage their investments. That could account for their better or more consistent returns. It indicates a greater self-awareness — a better sense of their strengths and limitations, which is a key part of doing well as an investor.
Men Take More Financial Risks
Men traditionally tend to be more adventurous. But how does that impact what they invest in?
To find out, we asked respondents to rate their confidence level in different asset classes. Answers were quantified on a 5-point scale (1 = Not at All Confident, 2 = Only Slightly Confident, 3 = Somewhat Confident, 4 = Moderately Confident, 5 = Very Confident). Here's how men and women compared.
We found that men opted for less-certain assets like stocks — 21% of men polled in the survey said they were very confident in stocks as a long-term investment, while only 5% of women felt that way. Women preferred less volatile assets such as real estate. Overall, 19% of women surveyed said they were very confident in real estate — significantly more than any other asset class.
Because men favor stocks, they are more heavily represented in the stock market.
Nearly three out of four male respondents reported they're investing in the stock market. Meanwhile, just over half of women reported they are. And although men take on more risk, that isn't always a bad thing. Excessive caution can cost investors. The stock market has historically generated an average annual return of 10%, while safer assets like gold have returned approximately 8% and long-term government bonds have returned 5% to 6%. Meanwhile, cash has depreciated due to inflation. For individuals with a long investment horizon, an overly conservative portfolio won't generate enough growth to meet their retirement goals.
Men's higher risk tolerance doesn't just affect which types of securities they invest in; it also affects how they manage their investments. A 2016 Nasdaq report concluded that women take a more long-term approach to investing: "By nature, women tend to focus on the future and what's down the road; whether that's in relationships or money … This consists of constructing a well thought investment strategy and sticking to it, even through its ups and downs"
By contrast, men don't leave their investments alone to grow. They believe they can outperform the market. So they adjust their investment strategy more frequently based on short-term market fluctuations, even for retirement planning. In other words, they let their emotions get the best of them. And as the report notes, "Economic research has found that a passive strategy habitually outperforms an active one in the long run, so it makes sense that men are 25% more likely to lose money in the market. That said, men have greater upside potential since higher risk typically means higher returns."
Women Align Investing With Values
Here's where things get even more interesting. We found that women are more committed to the idea of socially responsible investing. The typical female investor might delve more deeply into the social mission of a company before deciding whether or not to invest with them.
We asked respondents: If you were to invest in a company, how important would the social mission of the company be?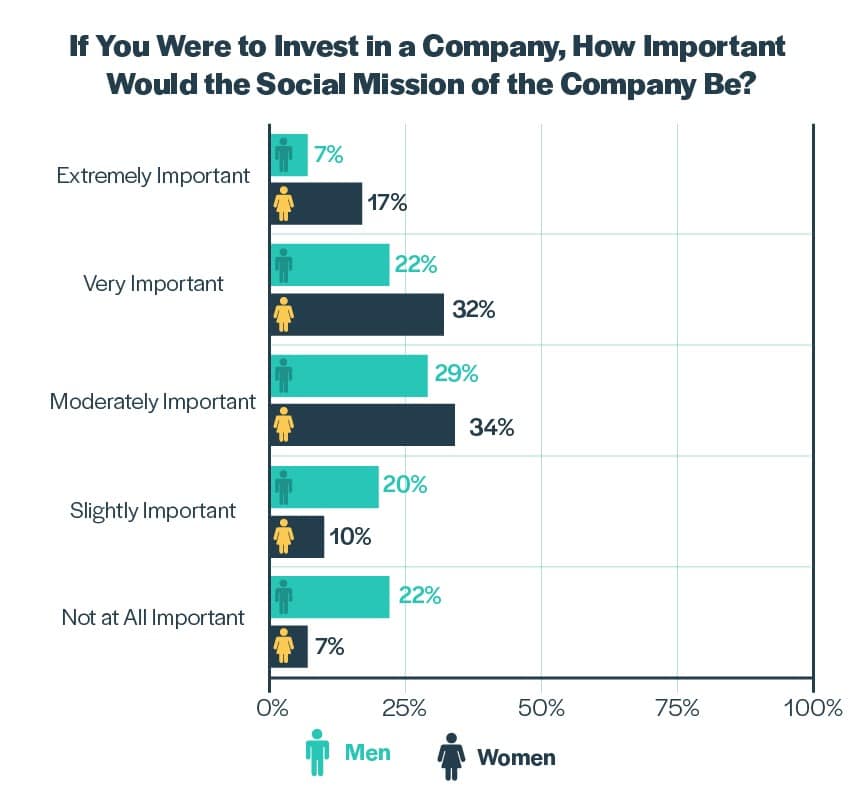 Overall, 49% of women said the social mission of a company was extremely or very important to them. Only 29% of men said this. For men, the social impact of the company they invest in is less important than earning a strong return.
Take Big Tobacco, for example. While nearly half of the men polled would have no issues with investing in brands best known for producing cigarettes, it was often a hard no for women. A whopping 81% of the women we polled said emphatically that they would refuse to invest in a company with a negative mission or potentially sketchy long-term impact.
Women often want to align their personal values with their investments. They're more likely than men to invest in companies with a positive social impact and avoid harmful companies. They view investing as a way to actualize their values.
Investing Requires Self-Awareness
Men and women tend to possess different strengths and weaknesses when it comes to investing. But while their approaches are worlds apart, both genders can learn lessons from one another.
Men tend to think they know more, and this overconfidence can cost them. They can limit the impact of their superiority bias by avoiding excessive trading and exhibiting more patience, like their female counterparts. If they're unable to control their impulses, then they may be better off letting their partner or a financial advisor manage their investments.
Women, on the other hand, are more risk-averse and receptive to professional advice. But the same trait that gives them an edge as investors can also hurt them. Too much caution can be bad for building wealth. They can be better served by investing more of their savings in the stock market.
Ultimately, a big part of investing is self-awareness. Understanding how our personal biases influence our behavior is key to success.
Methodology
This is the third report of a multi-part series based on a survey of 1,017 adults conducted between July 7, 2019, and November 5, 2019, by Money Crashers. Responses were collected by sharing the survey on social media, email, and online forums and through Prolific's panel services. For the analysis in this article, only responses from individuals who live in the United States (n=919) were considered. The participants were 48% male and 52% female.