If someone asked you what "rich" means to you, what's the first thing that would come to mind? Some would say a career that pays well, while others find joy in the simple things. From monetary possessions like a big house or flashy car to the less tangible benefits, achieving wealth means something different to everyone. Meaning, there's no one number that can make you feel rich.
We conducted a survey to find out exactly how Americans define "rich." We found that although many consider it to be a high income or net worth, almost one-third of Americans associate wealth with the things that money can't buy.
Key takeaways include:
Nearly one-third (27%) define "rich" in terms of lifestyle, including non-monetary things like loving relationships and free time.
Over 25% of people equate being rich to having financial security.
Almost half (43%) prioritize putting money into savings over buying something on their wishlist.
One-Third of People Don't Think of Wealth in Terms of Money
We've all heard the stereotype of the "typical American" — they're job obsessed with and driven by success, money, or both. But, what do Americans really consider rich? Our survey results found nearly one-third (27%) of people aren't concerned about a high income or net worth when it comes to wealth.
Rather, consumers define wealth by the way they live their lives. This includes non-monetary benefits like having loving relationships with friends and family or enough free time to do what they enjoy.
That's not as surprising as you may think. Science Advances found that 41% of Americans report not having enough time to do everything they want to, and they're forced to make hard decisions or trade-offs because of it, such as sacrificing time with their kids to put in extra hours at work.
Also, the wealth gap is wide in America. The richest 1% earn almost as much as the middle and upper-middle classes combined. Income disparity may be a major reason why people have shifted their perception of "richness" to focus on the invaluable parts or simple joys of life.
Finally, according to Purdue research, money only buys happiness to an extent — up to $75,000 for emotional well-being and $95,000 for life satisfaction. Once this income threshold is met, life satisfaction and well-being actually go down, even as income increases, due to things like lifestyle inflation. And those who pursue solely material gains may never reach personal fulfillment, even if their bank account is full.
Financial Security Is Top of Mind for Many
Nearly one-third (29%) of survey respondents defined being rich as having financial security, with respondents ages 25 to 34 making up the largest group for this answer. Financial security means peace of mind or confidence that you have enough money to cover not just monthly expenses, but emergencies or future financial goals.
Since 71% of American households are considered financially unhealthy, reaching financial security is no doubt a goal many people are working toward.
The COVID-19 pandemic has exacerbated financial concerns. According to the U.S. Census Bureau, low-income households and younger adults have been hit the hardest. These groups report higher levels of insecurity and worry around how they'll cover their next housing payment and basic necessities.
So, how are people shifting their financial habits or spending during this time? We asked survey respondents to find out.
Half of People Prioritize Savings Over Spending
To determine how people tend to prioritize their money, we asked consumers what they would do with the money if they received a bonus? Almost half (43%) said they would add it to their savings, while 30% would use it for necessities such as rent, groceries, or transportation.
Only 10% said they would purchase something on their wishlist, compared to putting it towards a future goal or investment. This shift in priorities may be largely due to the pandemic. The COVID-19 outbreak caused massive layoffs, business closures, and record-breaking drops in consumer spending. TD Ameritrade found that two-thirds of Americans have found new ways to cut back, and 64% say their spending habits have changed permanently due to the pandemic.
What Income or Net Worth Is Considered Rich?
Besides living a life you love, achieving financial stability, and keeping your spending in check, there are two other ways to measure wealth: income and net worth.
According to the Federal Reserve's Survey of Consumer Finances, the average net worth of a U.S. household is $692,100. However, the very wealthy and 1% inflate this average. For a more realistic number, the median (or middle point of all households) net worth is $97,300. The Institute for Policy Studies reports that 1 in 5 U.S. households actually has zero or negative net worth, meaning they owe more than they have today.
Knowing this baseline, how much money does it take to be rich? The top 1% in the U.S. earns an average annual income of over $500,000. To be among the richest 1% in the world takes over $744,000 in net worth, while to be in the richest 1% in the U.S. takes closer to $10 million in net worth.
Wealth is relative depending on who you're comparing, and what is considered "rich" varies by your age. The Federal Reserve found that net worth tends to increase with age and eventually plateaus or decreases near retirement.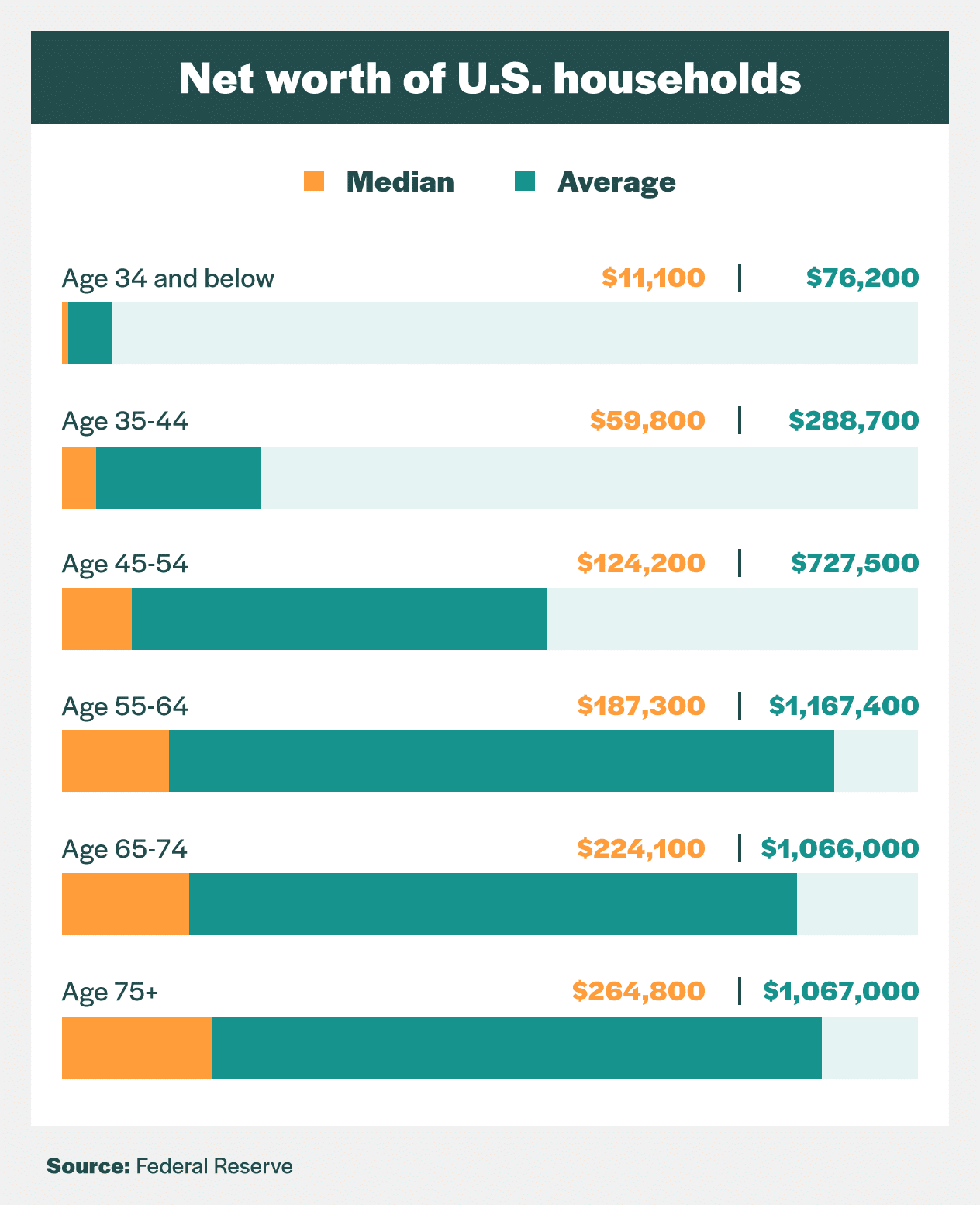 Final Word
Wealth has a different meaning for everyone. Being rich in the literal sense doesn't necessarily equal happiness. Uncover what "rich" means to you, and you can figure out a way to work toward that goal — whether that's making money or creating a life where you can do something you love everyday.
Methodology
This study was conducted for Money Crashers using Google Consumer Surveys. The sample consisted of no less than 1,500 completed responses per question. Post-stratification weighting has been applied to ensure an accurate and reliable representation of the total population. The survey was conducted in July 2020.