Like millions of Americans, I did my part to keep restaurants in business and gig workers employed during the early months of the COVID-19 pandemic by ordering an unreasonable amount of prepared food for delivery.
And because I happened to have a credit card that offered free DoorDash DashPass membership, my restaurant delivery habit cost me less than it should have. I saved at least $5 on every DoorDash order, although I passed some savings onto the drivers who worked so hard to get me my food via higher-than-usual tips.
I don't order restaurant delivery as much these days, but those credit card DashPass deals remain. If you're still on a delivery kick — or have newly discovered the joys of not venturing out of the house to pick up dinner — then you should seriously consider applying for one of the credit cards on this list.
The Best Credit Cards With Free DoorDash DashPass
The best credit cards that offer free DoorDash DashPass memberships have one big thing in common: They're all Chase credit cards. That's wonderful news if you're already a Chase fan, and a possible entry point into the Chase card ecosystem if you're not.
Each of these cards is different, of course. We've identified the ideal user for each in the listing below.
The other thing to note here is that the details of the DashPass membership deal can vary by card, so make sure you understand what you'll actually get from your preferred card. In all cases, DashPass membership auto-renews after the initial free or discounted period ends. If you feel you're not getting your money's worth out of it, be sure to cancel in time.
Last thing: Unless otherwise noted, you must activate your DashPass membership for the first time by December 31, 2024. To do this, simply add an eligible credit card as your default payment method in your DoorDash account and sign up for DashPass.
---
Best Overall: Chase Sapphire Reserve® Card
The Chase Sapphire Reserve® Card is a premium travel rewards credit card with a $550 annual fee that's more than offset by a slew of valuable benefits.
One recent addition to its lineup of perks is — you guessed it — a complimentary DashPass subscription. Sapphire Reserve's DashPass deal is the best around: 12 months' free (that's $0 per month) from the date you first enroll. At current prices, that's a $120 value as a new DashPass member.
Plus, for a limited time, Sapphire Reserve members get an extra $5 in DoorDash credits every month. These credits reduce your total order cost and don't interfere with the DashPass deal.
There's more to Chase Sapphire Reserve, of course. Additional cardmember benefits include:
A $300 annual travel credit against eligible travel purchases
A great sign-up bonus: Spend at least $4,000 in qualifying purchases within 3 months to earn 60,000 bonus Ultimate Rewards points. That's worth up to $900 when redeemed for airfare, hotels, and other travel purchases through the Chase Ultimate Rewards portal.
Air travel purchased through Chase Ultimate Rewards (Chase Travel) earns 5 total points per $1 spent
Hotels and car rentals purchased through Chase Travel earn 10 total points per $1 spent
All other eligible travel purchases earn 3 points per $1 spent
Eligible dining purchases also earn 3 points per $1 spent, including orders through delivery services like DoorDash
Transfer points at a 1-to-1 ratio to more than a dozen participating travel partners
Points are worth 50% more when redeemed for travel purchases through Chase Travel
Complimentary airport lounge access (a $399 annual value) through Priority Pass Select
No foreign transaction fees
$100 Global Entry or TSA PreCheck application credit once every four years
---
Best for Budget-Conscious Travelers: Chase Sapphire Preferred Card
The Chase Sapphire Preferred® Card DashPass benefit also delivers 12 free months of DashPass starting on your first enrollment date.
Sapphire Preferred cardmembers don't get the $5 monthly credit available to Sapphire Reserve cardmembers, unfortunately. But they can look forward to these excellent rewards and perks:
An awesome sign-up bonus: Earn 60,000 bonus points, worth up to $750 on travel purchased through Ultimate Rewards, when you spend at least $4,000 within 3 months.
A $50 annual credit against hotel purchases made through Chase Travel
3 points per $1 spent on eligible restaurant dining purchases, select streaming service purchases, and online grocery purchases
2 points per $1 spent on other eligible travel purchases
1 point per $1 spent on most other purchases
No foreign transaction fee
$95 annual fee — a significant discount to the Sapphire Reserve card's $550 annual fee, making Sapphire Preferred a better choice for budget-conscious travelers
---
Best for Cash Back With No Rotating Categories: Chase Freedom Unlimited Credit Card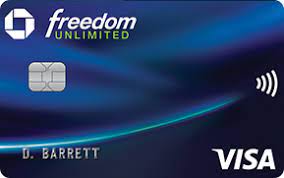 The Chase Freedom Unlimited® Credit Card shares a lot in common with the Chase Freedom Flex card, including the DashPass benefit. You get three months' complimentary DashPass after you enroll, then nine months at 50% off the then-current membership price.
What else? With Chase Freedom Unlimited, you also get a cash-back program with no rotating categories to worry about and unlimited 1.5% cash back on most eligible purchases. Plus:
During the first year your account is open, earn an additional 1.5% cash back on all eligible purchases
After the first year, earn unlimited 5% cash back on all eligible travel purchases made through Chase Ultimate Rewards travel
Also after the first year, earn unlimited 3% cash back on eligible drugstore and dining purchases, including takeout and delivery
Enjoy a 15-month 0% APR purchase and balance transfer promotion, after which variable regular APR of 20.49% - 29.24% applies
---
Best for Carrying a Balance: Chase Slate Edge Credit Card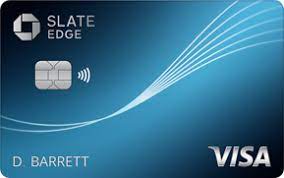 The Chase Slate Edge Credit Card isn't just one of the best credit cards for 0% APR intro offers. It has the same solid DashPass offer for new cardmembers as the Freedom cards: three months of free DashPass, then nine months at a 50% discount.
Moving forward, Slate Edge offers some choice perks:
Spend at least $1,000 on your card and make on-time payments in an account anniversary year to become eligible for a 2% annual interest rate reduction
You can qualify for the annual interest rate reduction each year until your APR reaches the prime rate plus 9.74%
Get an automatic, one-time review for a higher credit limit — just pay on time and spend $500 in your first six months
Enjoy 0% APR on eligible purchases and balance transfers for 18 months after account opening, then variable APR applies (currently 20.49% to 29.24%)
---
Best for Brand-Loyal Travelers: Chase Co-Branded Travel Credit Cards
Last but not least, Chase backs more than a dozen co-brand cards — hotel and airline credit cards tied to particular airlines and hospitality families. Participating cards include:
The Chase Aeroplan® Card
The Aer Lingus Visa Signature® Card
The British Airways Visa Signature® Card
The Iberia Visa Signature® Card
The Disney® Visa® Cards
The World of Hyatt Credit Cards
The IHG® Rewards Credit Cards
The Marriott Bonvoy® Credit Cards
The Southwest® Rapid Rewards® Credit Cards
The United MileagePlus® Cards
The Starbucks® Rewards Visa® Card
All of these eligible Chase cards get free DoorDash benefits for 12 months from the date of first enrollment. That's on par with the Sapphire Cards.
Each co-brand card has a rewards program and perks lineup tailored to its corporate partner. So the Marriott Bonvoy credit cards confer elevated status in the Bonvoy loyalty program and earn bonus rewards on eligible Marriott purchases, the British Airways card has a host of benefits for British Airways loyalists, and so on.
---
DoorDash DashPass — What You Need to Know
Each card listed above has important details about the card's DashPass offer. But what should you expect from DashPass as a whole?
Behold: Answers to some of the most frequently asked questions about DoorDash DashPass.
What Is DoorDash DashPass?
DoorDash DashPass is a premium membership for DoorDash customers. Its key benefits include:
$0 delivery fee on restaurant deliveries of $12 or more
Reduced service fees (variable reduction) on restaurant deliveries of $12 or more
$0 delivery fee on grocery deliveries of $25 or more
Priority customer support
DashPass-exclusive promotions, such as additional discounts on food deliveries
Even with DashPass, you pay for more than just the food itself when you order with DashPass. A reduced service fee may still apply, plus applicable taxes and gratuity.
What Is the Regular Price for DashPass?
The regular price for DashPass is $9.99 per month with a month-to-month subscription or $8 per month ($96 per year paid upfront) with an annual subscription.
With the monthly subscription, you can cancel at any time and pay only through the current month. The annual subscription locks you in for a full 12 months of service.
Both prices are subject to change at DoorDash's discretion.
Is DoorDash DashPass Worth It?
It depends how often you use DoorDash. DoorDash says DashPass subscribers save $4 to $5 per order on average, which means you have to use DoorDash twice per month to break even (or come close).
So if you use DoorDash every week, it's probably worth it. If you only use DoorDash once per month or even less frequently, it's probably not worth paying full price.
How Do You Cancel DashPass?
You can cancel DashPass in the DoorDash app. Note that your credit card information will remain on file with DoorDash and you'll still be able to order food through the app. If you want to stop using DoorDash altogether, remove your credit card from the app and delete it from your phone.
---
FAQs About Credit Cards With Free DoorDash DashPass
Now that you have the skinny on DashPass itself, dig deeper into the details of credit card DashPass offers. These are some of the most commonly asked questions about DoorDash credit card deals, complete with plain-English answers you won't find in the fine print.
By When Do I Need to Activate DashPass With My New Credit Card?
By December 31, 2024. Chase and DoorDash have pushed the activation date back several times since these offers began, and that could happen again. But don't bank on it.
How Long Does the Free DashPass Deal Last?
It depends on the card.
Chase Sapphire Reserve, Sapphire Preferred, and the co-brand cards have the best DashPass deal: 12 months free from the activation date. Other cards have shorter complimentary DashPass periods — the Freedom cards give you three months free and then nine months at a 50% discount, for example.
As always, read the fine print on your specific card offer — or see above — for the details.
What Happens After the Free DashPass Deal Ends?
After the free DashPass deal ends on your new credit card, your membership will automatically renew and you'll be charged for DashPass at the then-current monthly rate. Keep in mind that this rate can increase — and probably will, inflation being what it is — between now and then.
How Many Times Can I Get a Free DashPass Membership With a New Credit Card?
There's no hard limit on the number of free DashPass offers you can take advantage of.
When you add a new Chase card to your DoorDash account and make it your default payment method, you immediately get the DashPass benefits of that card. That means you can stretch your complimentary or discounted DashPass membership much longer than 12 months.
At least, in theory. In reality, you need to keep applying for new credit cards if you don't have them already, and that can temporarily hurt your credit score.
Apply for enough credit cards with the same issuer — Chase, in this case — and you could also start seeing your applications rejected out of hand. Chase has an informal rule known as the 5/24 rule that limits the number of credit card applications it'll accept from any new cardholder.
Still, it's nice to know that the complimentary DashPass offer isn't a one-and-done thing.
Can Authorized Users Get Complimentary DashPass?
Yes and no. If you have an authorized user on an eligible credit card and you activate your DashPass membership for the first time, you and the authorized user get the complimentary DashPass benefit starting at that time. The same goes if you have multiple authorized users — you all get complimentary DashPass.
However, authorized users can't extend the DashPass benefit later by activating their own, separate DashPass memberships with the same card. In other words, there's a strict limit of one complimentary DashPass deal per credit card account, regardless of how many authorized users are involved.
Can I Renew DashPass for Free If I Keep My Card?
No. You can't extend the complimentary DashPass deal using the same credit card account. Once the free or discounted period ends, your membership renews at the then-current rate.
---
How to Choose the Best Credit Card With Free DoorDash DashPass
Pretty sure you want a credit card that offers free or discounted DashPash, but not sure which one is right for you?
Chances are, the most important factors in your decision won't have anything to do with DashPass at all. As you narrow down your list, consider:
How the card's rewards program aligns with your spending habits — does it reward the purchases you make most often?
How the card's rewards program aligns with your lifestyle — is it a travel credit card, a gas credit card, or something else?
The value-added perks and benefits, such as travel credits and trip insurance
The annual fee, if any
The 0% APR introductory promotion, if any
Of course, the details of each card's DashPass offer matter too. The best DashPass deals on this list offer 12 months of free membership, compared with just three months of free membership plus 50% off for nine months on the less generous side. If that's your tiebreaker, more power to you.