Every small-business owner knows the open secret about business banking: It's just not as owner-friendly as consumer banking.
There's a reason our roundup of the best online banks has few truly free business checking accounts — accounts with no monthly maintenance fees (and thus no overly burdensome monthly service fee waiver requirements) or monthly transaction limits. Unfortunately, monthly maintenance fees and transaction limits are par for the course in the business banking world.
That sets up a sharp contrast with the consumer banking space, where the free checking accounts and free high-yield savings accounts have proliferated since the global financial crisis of the late 2000s.
Free checking accounts aren't entirely absent from business banking. They're just more difficult to find — which means small-business owners and solopreneurs need to know where to look.
Best Free Business Checking Accounts
These FDIC-insured online banking accounts all waive monthly maintenance fees for all account holders, regardless of account balance, transaction volumes, or cash deposit requirements.
They boast other user-friendly perks besides, such as mobile banking, bill pay capabilities, cash flow management tools, and ACH functionality. That puts them head and shoulders above your basic business checking account.
Here's what you need to know about each.
1.00% on All Balances With Qualifying Minimum Balance
BlueVine Business Checking is a truly free business checking account that offers a nice yield for higher-balance account holders and waives transaction limits, nonsufficient funds (NSF) fees, and ATM fees within an expansive network.
Every new account holder gets two free checkbooks to begin, which makes BlueVine Business Checking an excellent choice for businesses with vendors who don't take electronic payments.
Minimum Deposit and Balance Requirements: There's no minimum balance requirement and no ongoing monthly maintenance fee.
Yield: Earn a 1.00% APY on all balances up to $100,000.
Rewards and Incentives: BlueVine has no transaction limits, waives fees at about 38,000 in-network ATMs, and delivers two free checkbooks with every new account.
Overdraft Options: BlueVine does not impose overdraft or NSF fees but may decline such transactions at its discretion.
Possible Fees: BlueVine has virtually no fees.
---
Limited-Time Offer: $100 Account Opening Bonus
Axos Bank Basic Business Checking is a no-nonsense, maintenance-fee-free checking account that offers unlimited ATM fee reimbursements, a remote (mobile) deposit feature that's perfect for business owners on the go, and a great welcome bonus offer.
For those keen on Axos Bank but hoping to avoid maintenance fees, Basic Business Checking is an excellent alternative to Axos Bank Business Interest Checking. And you can apply entirely online.
Plus, Axos has multiple consumer bank accounts appropriate for business owners looking to manage their personal finances.
Minimum Deposit and Balance Requirements: The minimum opening deposit is $1,000. There's no monthly maintenance fee.
Yield: None.
Rewards and Incentives: To earn the limited-time welcome bonus, apply for a new Axos Bank Basic Business Checking account by the stated offer end date (March 31, 2021). Then, maintain an average daily balance of at least $5,000 (new funds only) during the first three months your account is open.
Overdraft Options: Axos Bank offers an opt-in overdraft line of credit that covers overdrafts that would otherwise be returned unpaid. This line of credit has a variable interest rate comparable to a high-interest credit card. Payment of at least 5% of the balance or $25, whichever is greater, is due each statement cycle.
Possible Fees: $0.30 per item processed after the first 200 items each month.
For more information, read our Axos Bank review.
---
Totally Free Checking With Automatic Tax Savings and Financial Insights
The Lili Account is a truly free, all-in-one checking solution that's built with freelancers in mind. In practice, it appeals to a much broader audience: side hustlers and gig workers supplementing W-2 income, established solo professionals (one-person businesses), and full-time freelancers.
With Lili, these folks don't need separate bank accounts for personal and business needs — just Lili. Its signature benefits include a sub-account that simplifies tax savings, early payday for qualifying account holders, instant expense categorization, cash deposits at more than 90,000 U.S. locations, an "emergency bucket" feature that allows savings transfers as small as $1 per day, and a powerful cache of financial insights and expense management tools to help you spend (and save) smarter.
Minimum Deposit and Balance Requirements: Lili has no account fees or minimums.
Yield: Lili doesn't pay interest. Check back often for the latest offers.
Rewards and Incentives: Lili's referral program pays $25 per successful referral and delivers a bonus of $1,000 when you make 10 successful referrals. Plus, Lili makes it easy to set aside funds earmarked for tax payments, has helpful expense management and categorization tools (like quarterly expense reports), promises an early payday for account holders with direct deposit (up to two days early), and delivers real-time alerts about transactions and other account activities.
Possible Fees: Lili charges no account fees.
---
50,000 Bonus Points After Account Approval; No Fees or Minimums
Brex Cash is the perfect replacement for your old business bank account: an easy-to-use cash account with no fees or minimums. New Brex Cash companies enjoy a generous welcome offer and ongoing rewards program, plus value-added perks worth $150,000, a user-friendly mobile app with impressive capabilities, and advance payment scheduling tools built to help you avoid late vendor payments.
Minimum Deposit and Balance Requirements: Brex Cash has no account fees or minimums.
Yield: None.
Rewards and Incentives: After your account is approved and open, spend $1,000 to earn 50,000 bonus Brex Rewards points. You'll earn points on every purchase, every day too.
Possible Fees: Brex Cash has no account fees.
*Brex Treasury LLC is not a bank; Brex Cash is not a bank account.
---
Opportunities to Earn Thousands in Free Perks
Novo's Powerfully Simple Business Banking product is another branchless, free business checking option geared toward self-employed users and microbusiness owners.
Its key selling points include an easy application process, opportunities to earn thousands in free perks with approved partner vendors, few if any fees, and a host of third-party integrations.
Minimum Deposit and Balance Requirements: The account opening minimum is $50. There's no ongoing minimum balance requirement and no monthly maintenance fee.
Yield: None.
Rewards and Incentives: See Novo's website for details on opportunities to earn thousands in free perks.
Overdraft Options: Novo's overdraft protection policy states that if Novo chooses to honor an overdraft, the insufficient funds fee is $27 per item. The returned-item fee is also $27 per item.
Possible Fees: Novo has virtually no fees besides the insufficient funds and returned-item fees.
---
6. Citizens Bank Clearly Better Business Checking
No Monthly Maintenance Fee; High Monthly Transaction Limit
Citizens Bank Clearly Better Business Checking is built for established small businesses with no tolerance for monthly maintenance fees. Its high monthly transaction limit (including for cash deposits) and generous overdraft options are perfect for high-volume account holders working on thin margins.
The biggest downside is the fact that eligibility is geographically limited to states in Citizens Bank's physical branch network, mainly in the Northeast and Mid-Atlantic. If you happen to live and work in this part of the country, it's difficult to envision a better free business banking option.
Minimum Deposit and Balance Requirements: The minimum opening deposit is $100. There's no ongoing monthly balance requirement.
Yield: None.
Rewards and Incentives: None.
Overdraft Options: Citizens Bank offers two opt-in overdraft options. The first is an overdraft line of credit that costs $30 per year and requires a monthly payment of the greater of $20 or 2% of the balance. The second is an overdraft savings transfer program with no annual fee. Both options charge $12 for each day an overdraft transfer occurs, regardless of the number of transfers on that day.
Possible Fees: $0.50 per item above the 200 monthly transaction limit. See terms for information about wire fees and other possible levies.
---
7. NBKC Business Checking Account
No Minimum Daily Balance Requirements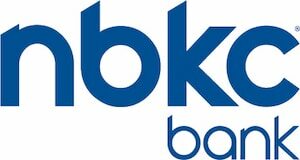 With no balance requirements, unlimited free transactions (no transaction fees), and fee-free access to more than 34,000 ATMs in the U.S. and Puerto Rico, NBKC's business checking account is ideal for microbusiness owners and sole proprietors without significant cash reserves.
Plus, it has one of the best remote check deposit features around: the Desktop Deposit feature, which pairs with a robust mobile app to facilitate seamless deposits.
Minimum Deposit and Balance Requirements: There's no minimum daily balance requirement or ongoing monthly balance requirements.
Yield: None.
Rewards and Incentives: NBKC refunds ATM fees charged by other banks worldwide, up to $12 per month, and charges no ATM network fees. In other words, NBKC customers enjoy free ATM use. This account comes with unlimited transactions as well.
Overdraft Options: See account disclosures for details on how NBKC's courtesy overdraft sweep works.
Possible Fees: NBKC charges $5 to send a domestic wire and $45 to send or receive an international wire. Otherwise, it's virtually fee-free.
---
Final Word
Some of the banks mentioned here serve small-business owners exclusively. If you prefer to work with a bank that's laser-focused on the needs of entrepreneurs like you, that's a major selling point.
The other banks on this list are larger institutions that also serve consumers. If you also happen to be in the market for a new personal banking relationship, you'll want to see what else they have to offer.
Some sport rewards checking accounts, competitive CD rates, and attractive money market accounts too — not to mention high-yield savings accounts that can help you keep pace with inflation. There's a strong case to be made for doing all your banking in the same place, whether it's a bank or credit union.