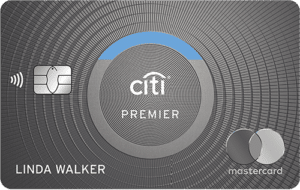 Citi Premier® Card
Sign-up Bonus: Earn 60,000 bonus ThankYou points after you make $4,000 in purchases with your card in the first 3 months. That's worth $600 when redeemed for gift cards at ThankYou.com. Plus, for a limited time, earn a total of 10 ThankYou points per $1 spent on hotel, car rentals, and attractions (excluding air travel) booked on the Citi Travel portal through June 30, 2024.
Rewards: 3 ThankYou points per $1 spent on travel purchases (including airfare, hotels, car rentals, and local transportation); 1 point per $1 spent on all other purchases
Benefits: Point transfer to select travel partners at favorable rates (including JetBlue TrueBlue and Virgin Atlantic Flying Club); annual hotel savings credit worth $100
Intro APR: None
Fees: No foreign transaction fee
Annual Fee: $95
Credit Needed: Excellent
The Citi Premier® Card is a travel rewards credit card with a $95 annual fee and an expansive loyalty program that lets you redeem for general merchandise, gift cards, cash back, and travel, including airline tickets and hotel stays. Most redemptions occur through Citi's ThankYou® portal, but you can also use your accumulated ThankYou points to make purchases with partner vendors such as Amazon.com and LiveNation.
Premier is comparable to a number of other cash back and travel rewards cards with annual fees, including the Chase Sapphire Preferred Card, the Capital One Venture Rewards Card, and various airline- and hotel-branded cards.
Key Features
Sign-up Bonus
Earn 60,000 bonus ThankYou points after you make $4,000 in purchases with your card in the first 3 months. That's worth $600 when redeemed for gift cards at ThankYou.com. Plus, for a limited time, earn a total of 10 ThankYou points per $1 spent on hotel, car rentals, and attractions (excluding air travel) booked on the Citi Travel portal through June 30, 2024.
Earning ThankYou® Points
This card earns unlimited 3 ThankYou points per $1 spent on purchases at restaurants, supermarkets, gas stations, airlines, and hotels. All other purchases earn an unlimited 1 point per $1 spent.
Redeeming ThankYou Points
You can redeem your accumulated ThankYou points at the Citi ThankYou portal for a wide variety of merchandise, travel, experiences, and cash and cash equivalents, including gift cards, statement credits, and paper checks. You can also redeem for direct purchases at Amazon.com and with LiveNation. Point values vary based on how you redeem.
Travel booked through Citi's travel portal offers the best bang for your buck – points are reliably worth $0.01 apiece with this option, meaning a 40,000-point haul translates to $400 in travel purchases. Plus, there are no blackout dates on Citi travel bookings – and, if you don't have enough points to cover the full cost of a travel purchase, you can pay the difference with a credit or debit card.
Gift card redemptions are also worth a straight $0.01 per point. All other redemption options are worth between $0.005 and $0.01, with cash redemptions on the lower end of this range and Amazon.com redemptions on the higher end. Redemption minimums vary by redemption method as well – for instance, they start around 1,000 points for merchandise redemptions and 5,000 points for paper check redemptions.
Transferring Points to Travel Partners
If you don't want to redeem for any of the options listed above, you can transfer your accumulated ThankYou points to about a dozen travel loyalty programs, often at a one-to-one ratio, and sometimes better. You typically need at least 1,000 ThankYou points to complete a transfer.
Most transfer partners are airlines that primarily operate overseas, such as Cathay Pacific, but JetBlue – a largely North American operation – also participates.
Annual Hotel Savings Benefit
Once per calendar year, you'll enjoy $100 off a single hotel stay of $500 or more (excluding taxes and fees) through thankyou.com.
Important Fees
This card has a $95 annual fee. There is no foreign transaction fee.
Credit Required
This card requires excellent credit. Even minor dings can affect your application and reduce your chances of approval.
Advantages
Rapid Point Earnings on Eligible Purchases. With Citi Premier, you'll earn 3 points per $1 spent on eligible purchases at restaurants, supermarkets, gas stations, airlines, and hotels. That's a 3% return if you plan to redeem for gift cards.
Very Nice Sign-up Bonus. This card's sign-up bonus is one of the best in the business for a travel card with a sub-$100 annual fee.
No Foreign Transaction Fee. This card doesn't have a foreign transaction fee. That's great news for frequent travelers who regularly set foot – and use their cards – outside U.S. borders. It's also a distinct advantage relative to competitors such as the Expedia+ Card.
Versatile Redemption Options. You can redeem accumulated ThankYou points for pretty much anything – not just travel and gift cards. You also don't necessarily have to redeem through the ThankYou portal, as ThankYou points can be used on direct purchases with Amazon and LiveNation.
Annual Hotel Savings Credit. This card's annual hotel savings credit is worth $100 off eligible hotel stays of $500 or more once per year. That's a nice vacation subsidy.
Disadvantages
Has an Annual Fee. The Premier Card has a $95 annual fee. If you don't use this card heavily enough to offset that recurring cost, you're better off with a fee-free alternative, such as the Citi Rewards+ Card.
Point Values Lower for Cash and Merchandise Redemptions. ThankYou points are worth less than $0.01 apiece, and sometimes as little as $0.005 apiece, when redeemed for anything other than gift cards and travel – including hard cash. This is a drawback relative to Chase's rewards cards, which offer cash redemptions at a flat $0.01-per-point rate.
Limited Point Transfer Options. While it's nice that you can transfer ThankYou points to airline and hotel loyalty programs, the options aren't exactly a "who's who" of popular American travel brands. Most transfer opportunities involve international airlines that are liable to require huge quantities of points when it comes time to redeem. In most cases, you're better off redeeming ThankYou points for Citi travel bookings.
Charges Penalty Interest. This card charges penalty interest at a 29.99% APR. If you occasionally miss payment due dates, that can quickly add up. Some competing cards never charge penalty interest.
Final Word
The Citi Premier® Card isn't a straight-up cash back card – after all, its cash redemption values are pretty low relative to its peers. It's also not exclusively a travel rewards card. And, despite solid earnings on dining out, it's not only a restaurant credit card either. It's a mashup of all these things and more – making it a powerful ally for consumers who spend in its favored categories and enjoy being able to redeem rewards for pretty much anything they want.
Of course, the Premier Card has drawbacks, including a sizable annual fee and uneven redemption options that can eat into the value of your accumulated points. However, if you're not sure which types of rewards you value or intend to use most, it could be the right card for you.
The Verdict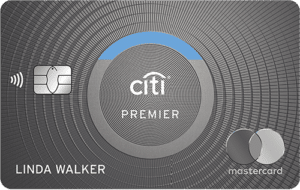 Citi Premier® Card
The Citi Premier® Card is a great card for frequent travelers who have excellent credit, are able to spend heavily enough – especially on travel and dining – to offset the annual fee, and don't mind redeeming points for travel purchases and gift cards. It's not ideal for light spenders, those who don't travel frequently, and those who prefer to redeem for cash.
Editorial Note: The editorial content on this page is not provided by any bank, credit card issuer, airline, or hotel chain, and has not been reviewed, approved, or otherwise endorsed by any of these entities. Opinions expressed here are the author's alone, not those of the bank, credit card issuer, airline, or hotel chain, and have not been reviewed, approved, or otherwise endorsed by any of these entities.