Pros
No annual fee
Relaxed underwriting (good for building credit)
No cash back caps or redemption minimums
Cons
Rewards rate capped at 1%
Comes with a low credit limit to start
No early spend bonus or intro 0% APR offer
Capital One Spark 1% Classic, also known as Capital One Spark Classic for Business or simply "Spark Classic," is a business credit card for business owners with fair or limited credit. Though its reasonable cash back rewards rate and minimal fees – including no annual fee – are nice benefits for anyone who likes low-cost rewards credit cards, Spark Classic's real utility lies in its credit-building power.
Spark Classic competes with a number of other entry-level business credit cards, including Capital One's own Spark Cash Select and Spark Miles Select, both no-annual-fee cards that cater to business owners with excellent credit and earn rewards at higher rates. It also competes with popular business cards like Chase Ink Business Cashand American Express Blue Business Plus.
Keep in mind that, as an entry-level business credit card, Spark Classic lacks some of the perks of higher-end competitors. For instance, it doesn't offer an early spend bonus or introductory APR deal, and advises applicants to expect initial credit limits as low as $500.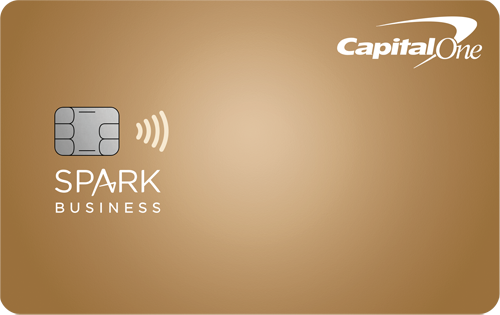 What Sets Capital One Spark Classic Apart
Now that we've settled the question of whether the Spark Classic card is legit, let's see what distinguishes it from other small-business credit cards. Spoiler alert: It's not all good.
Low Baseline Cash-Back Rate. 1% cash back is as good as you'll do here, with the small exception of Capital One Travel purchases. You'll have to decide whether building credit is more important than earning a reasonable cash-back return (and it probably is in the short term).
Low Initial Credit Limit. Capital One advises applicants to expect credit limits as long as $500 to start. Needless to say, that's very low for a business credit card and probably not suitable for businesses with tight cash flows.
Lax Underwriting Standards. This is a bright spot — the fact that you may qualify for this credit card even if your business credit isn't anything to write home about.
Create Virtual Card Numbers at Will. This capability is becoming more common in the business credit card world, but it's still not as widespread as it should be. Until that changes, it'll be a selling point for Spark Classic (and other Capital One cards too).
Is Capital One Spark Classic Legit?
It seems strange to ask whether any Capital One credit card is legitimate. Capital One is a huge financial institution that has been in business for nearly 30 years and has millions of apparently satisfied customers.
But Spark Classic is no ordinary credit card. It's an entry-level card designed specifically (if not entirely) for business owners who need to build their credit. If you use it well, you shouldn't have it in your wallet for very long because your business credit will (hopefully) improve and you'll (hopefully) graduate to a more generous Capital One Card, like Spark Cash Select or even Spark Cash Plus.
Because the world is full of sketchy (and legitimate, but often sketchy) companies that promise rapid credit score improvements, it's fair to ask whether Spark Classic's implicit promise is more talk than action. With the standard caveat that individual results may vary, we're happy to confirm that yes, you really can build credit with Capital One Spark Classic. And if you don't believe us, check out what thousands of verified users think about the product (courtesy of Capital One — reviews managed by BazaarVoice).
Is this reason enough to apply for Spark Classic? It depends on your priorities. If your top goal is to earn cash-back rewards and you can qualify for a more geneorus card, you should do that instead. But if you need to build business credit sooner than later, Spark Classic is a good choice.
---
Key Features of Capital One Spark Classic
These are the key features of the Spark 1% Classic card. Note the low but unlimited cash-back rate, the lack of any significant fees, and benefits for business managers (among others).
Cash Back Rewards and Redemption
This card earns an unlimited 1% cash back on every purchase. There's just one exception: 5% cash back on eligible Capital One Travel bookings, which must be made through the Capital One Travel portal.
You can redeem accumulated cash back in any amount for statement credits or paper checks. You can also set up automatic redemptions that send paper checks or apply statement credits once you hit a predetermined cash back threshold: $25, $50, $100, or $200.
Though Capital One allows you to redeem accumulated cash back for gift cards and other items, non-cash redemption rates tend to be lower than the standard $0.01 per cash back point and are subject to change without warning.
Important Fees
There is no annual fee, foreign transaction fee, balance transfer fee, or fee for extra employee cards.
Quarterly and Year-End Summaries
At the end of each quarter, and again at the end of the year, you receive a detailed summary of your spending during the preceding quarter and/or year, including employee card spending, if any. The summary includes categorized, itemized spending records designed to simplify your business's tax preparation, budgeting, and accounting processes.
Downloadable Purchase Records
You're entitled to receive downloadable purchase records designed for easy translation to accounting software such as QuickBooks, Excel, and Quicken. This further simplifies the accounting and tax prep processes.
Virtual Card Numbers
You can create as many virtual card numbers as you need in your Capital One Spark Classic online account. This is a great way to keep your actual card number safe from untrustworthy vendors and those with lax security practices (and out of fewer hands in general).
Additional Benefits
Capital One Spark Classic's general benefits include complimentary auto rental collision damage coverage when the full amount of the rental is charged to your card, luggage protection up to $3,000 per trip, and 24/7 emergency travel assistance services such as lost card replacement and ticket replacement.
Credit Required
This card requires average, fair, or limited credit. Even if you have significant blemishes on your credit record, you can still expect to be considered for this card. However, very serious issues, such as a recent bankruptcy or foreclosure, may be disqualifying.
Advantages of Capital One Spark Classic
Here's why you might want to apply for Spark Classic. Clearly, this isn't the most generous business credit card on the market, but that's not really the point.
No Annual Fee. Capital One Spark Classic for Business doesn't carry an annual fee. That's good news for frugal business owners, and a welcome contrast to popular alternatives such as Chase Ink Business Preferred and American Express Business Green Rewards.
Available to Business Owners With Fair or Spotty Credit. For a business credit card, Spark Classic has unusually lax qualification standards. Significant credit blemishes, such as an uneven history of timely credit card payments and high credit utilization, aren't necessarily disqualifying here. Popular alternatives, including the American Express family and the other Capital One Spark cards, require good credit at a minimum – and often demand excellent, or even stellar, credit.
No Foreign Transaction Fees. If you do business overseas, this card's lack of foreign transaction fees is a big deal. Many competing AmEx cards do charge foreign transaction fees, a significant drawback for globe-trotting cardholders.
No Caps on Cash Back. There's no limit to how much cash back you can earn with Spark Classic: the 1% rate is effective no matter how much you spend. The Chase Ink cards both impose limits on certain spending categories, crimping your earning power if you spend heavily.
No Cash Back Redemption Minimums. This card doesn't impose a minimum cash back redemption threshold, which is good for cardholders who don't spend (or earn) enough to regularly meet such minimums.
---
Disadvantages of Capital One Spark Classic
Consider these drawbacks before applying for Spark Classic. If you believe you can qualify for a more generous business credit card, I'd certainly think strongly about trying.
Comes With a Low Credit Limit to Start. Spark Classic applicants with fair credit should expect a restrictive credit limit to start – as low as $500, in some cases. While Capital One doesn't go into detail about how it sets credit limits or when cardholders can expect increases, it's important to keep your expectations in check out of the gate.
Rewards Rate Capped at 1% on Most Purchases. It's nice that Spark Classic has rewards at all, but the rate is pretty anemic: just 1% on purchases other than Capital One Travel bookings, which earn 5% cash back.
Limited Business Benefits. Spark Classic lacks some of the practical business benefits common to fellow business credit cards. Aside from the periodic spending reports and downloadable purchase records, there's not much to talk about here. By contrast, the American Express business cards (including Business Green Rewards) come with 5% discounts at select partner merchants, such as FedEx.
No Introductory APR. Spark Classic doesn't have a 0% intro APR deal for purchases or balance transfers. That's a drawback relative to Capital One's Spark Miles Select business credit card, which has a 9-month 0% purchase APR promotion. Spark Classic's regular APR is on the high side too.
No Early Spend Bonus. Spark Classic lacks an early spend bonus, a significant drawback for new cardholders who wish to juice their rewards from the get-go. Fellow Spark cards have early spend bonuses of up to $1,000.
Restrictions on Non-cash Redemptions. If you want the flexibility to redeem your rewards at competitive rates for non-cash items, Spark Classic isn't your card. Gift card redemptions can reduce the value of your earned points, further eroding your earning power. The Chase Ink and American Express business cards both offer a wide array of redemption options, including travel and general merchandise, at competitive rates (often $0.01 per point or better).
How Spark Classic Stacks Up
Not sure Spark Classic is right for you? If you're set on a Capital One card and you think you can qualify for a slightly more generous product with stricter underwriting standards, check out the Capital One Spark Cash Select Card before you apply here.
| | | |
| --- | --- | --- |
| | Spark Classic | Spark Cash Select |
| Regular Rewards Rate | 1% cash back on most eligible purchases | 1.5% on most eligible purchases |
| Capital One Travel Rate | 5% cash back | 5% cash back |
| Redemption Value | $0.01 per point or less | $0.01 per point or less |
| 0% APR Offer | None | None |
| Annual Fee | $0 | $0 |
| Foreign Transaction Fee | None | None |
| Credit Required | Fair | Good |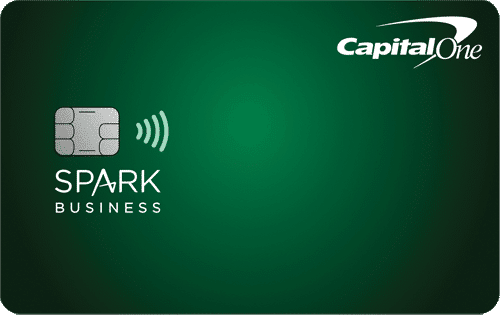 Final Word
Capital One Spark Classic for Business is a classic starter credit card for business owners with big plans and so-so credit. It's very similar to the Capital One QuicksilverOne consumer credit card, which is also geared toward people with fair to average credit, comes with moderate starting credit limits, and doesn't accrue cash back rewards as quickly as its more generous peers.
If used responsibly, both Spark Classic and QuicksilverOne are tailor-made stepping-stones to credit cards with higher spending limits, lower APRs, better rewards, and more attractive fringe benefits. You have to start somewhere, and this is as good a place as any.
Pros
No annual fee
Relaxed underwriting (good for building credit)
No cash back caps or redemption minimums
Cons
Rewards rate capped at 1%
Comes with a low credit limit to start
No early spend bonus or intro 0% APR offer
Editorial Note: The editorial content on this page is not provided by any bank, credit card issuer, airline, or hotel chain, and has not been reviewed, approved, or otherwise endorsed by any of these entities. Opinions expressed here are the author's alone, not those of the bank, credit card issuer, airline, or hotel chain, and have not been reviewed, approved, or otherwise endorsed by any of these entities.