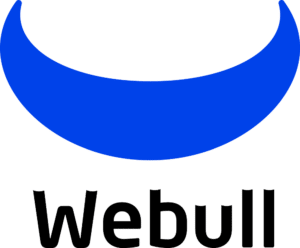 Pros
Commission-free stock and ETF trading
Access to alternative assets, including crypto
Excellent account opening bonus
Cons
No direct bond or mutual fund purchases
Some common account types missing (no 529 plans)
No managed investment option
Webull is an online stock broker that offers commission-free trading for individual stocks and ETFs with no deposit minimums or minimum balance requirements. Although it's not as widely recognized as other user-friendly fractional share investing platforms like Robinhood, Webull is cut from the same cloth and stands out as a potential alternative to its better-known competitors.
Webull has some other advantages worth noting, including an attractive account opening bonus and a powerful collection of charting and research tools appropriate for novices, intermediate traders, and sophisticated day traders alike. And, although Webull doesn't have a comprehensive inventory of alternative investment options, its users can easily buy cryptocurrencies and options.
If you're looking for a new trading experience, Webull is worthy of your consideration. Read on to learn more about the platform's investing options, features, and selling points.
How Webull Stacks Up
Webull isn't the only commission-free online brokerage platform competing for your business.
And it's not the best, if we may say so ourselves. Not that it doesn't have a lot going for it. Let's see how it stacks up against another popular online brokerage — Robinhood.
If you want a more detailed head-to-head on the two, check out our full-length comparison of Webull vs. Robinhood.
| | |
| --- | --- |
| Webull | Robinhood |
| Account opening bonus worth up to $30,600 | Account opening bonus up to $200 |
| No commissions on stock or ETF trades | No commissions, period |
| Webull gets payment for order flow | Robinhood gets payment for order flow |
| Free access to Level 2 data and more | Pay extra for Level 2 data ($5/mo) |
Webull Investment Products and Account Types
Webull offers access to four distinct types of investment products:
Stocks: All Webull users are eligible to purchase exchange-traded stocks, including fractional shares where available. Webull does not charge commissions for trading stocks.
Options: Webull users can trade options contracts with no commissions, contract fees, assignment fees, or exercise fees, making it one of the few truly free options trading platforms. Bear in mind that options trading involves significant risk.
ETFs: Webull offers access to invest in exchange-traded funds (ETFs), or baskets of individual equities (stocks and other market-traded instruments) designed to replicate the performance of specific market sectors, indexes, or themes.
Cryptocurrencies: Webull offers access to popular digital currencies with a low $1 trading minimum. Available crypto choices include Bitcoin, Bitcoin Cash, Ethereum, Litecoin, and Dogecoin.
Webull users can structure their accounts as taxable investment accounts (general investing accounts) and three types of individual retirement account (IRA): traditional IRAs, Roth IRAs, or rollover IRAs.
Key Features of Webull
Webull stands out for its generous account opening bonus and commission-free stock and exchange-traded fund (ETF) trading. Other notable capabilities include Nasdaq Level II market data, advanced charting tools and keys for all users, and paper trading for novice investors and those looking to try out new strategies without risking real money.
Webull Account Opening Bonus
When you open and fund a new Webull account in any amount, you could get up to 12 free stocks worth more than $30,000 in total (though your actual bonus amount is likely to be lower).
Participating stocks include:
Google
Meta (formerly Facebook)
Procter & Gamble
Starbucks
Kraft Heinz
Snap
Webull offers two distinct promotions for new account holders.
Account Opening Bonus (2 Free Stocks)
First, there's the account opening bonus. All you have to do is sign up and open a qualifying Webull account. Once this is done, you'll receive 2 free stocks valued between $3 and $300.
You must complete the account opening process by the stated offer end date — subject to change at Webull's discretion — at the time you apply.
Deposit Bonus (Up to 10 Free Stocks)
Here's where the rubber really hits the road.
To get the deposit bonus, just make an initial deposit of any amount to your new account. If you do, you can claim up to 10 fractional share free stocks valued between $7 and $3,000 per share. However, you must make your deposit by the end of the offer period.
Both of these offers apply only to Webull cash and margin accounts. They are both subject to change at Webull's discretion.
Crypto Bonus ($5 Crypto Reward)
Webull also has a crypto bonus for new account holders.
It's simple to claim. Just activate Webull Crypto in your new brokerage account, then complete one crypto trade with a minimum of $1.
You're now eligible to claim your $5 crypto reward. Choose from your favorite cryptocurrency — SHIB, DOGE, BTC, ADA, or ETH — to seal the deal.
Bear in mind that this promotion offer is open only to eligible customers. Refer to the Terms and Conditions for eligibility requirements.
Research and Analysis Tools
Webull has some useful analytics and research tools for account holders. Unless otherwise noted, these features are available free of charge on Webull's website — including for users without Webull accounts — or within users' trading dashboards.
Stock Screeners: Webull's platform has a robust stock screener feature that allows users to sort and filter stocks as they please. Screening criteria include market (region, exchange, sector), technical indicators (more than a dozen in all), financial indicators (such as earnings per share), analyst ratings, and more.
Stock Watchlists: Webull users can compile customized lists of stocks to watch and set triggers for real-time alerts, such as movement below a specific price threshold or above a particular volume threshold.
Charting Tools: Webull supports in-depth technical analysis for stocks and ETFs with an impressive array of basic and advanced charting tools.
Nasdaq Level II Market Data (Nasdaq TotalView): Webull users enjoy access to Nasdaq Level II market data (Level 2 market data) through Nasdaq TotalView, a paid subscription service (fees vary). Level II market data shows multiple bids and asks for covered equities in real time, making it ideal for active traders looking for more granular insights into short-term market movements.
Additional Features and Capabilities of Webull
The Webull desktop platform and mobile trading app have some additional features and capabilities for users. All make the platform easier, more fulfilling, and potentially more profitable to use.
Hot Keys
Webull users can use the platform's standard hot key combinations within the desktop platform to execute a variety of research, analysis, and trading maneuvers. Webull also allows users to create custom hot keys for less common actions. In both cases, this feature is useful when seconds matter.
Margin Trading
In addition to the standard Webull cash account that's available to all users, Webull allows margin trading for users with at least $2,000 in their accounts (per regulatory guidelines). Margin traders can borrow from Webull at competitive interest rates (margin rates) to increase their leverage in the market.
Bear in mind that margin trading carries significant risk and may magnify trading losses, so it's not for novices.
Paper Trading
Webull's paper trading feature lets users try out new trading strategies and backtest market maneuvers without committing their own money.
Full Extended Hours Trading
Webull offers full extended hours trading for all users, providing access to U.S. premarket and after-hours trading sessions. This is a big advantage for day trading professionals looking to take advantage of thin extended hours trading volumes and for active traders whose day jobs preclude them from actively watching the market during regular trading hours.
---
Advantages of Webull
Webull is a very low-cost online brokerage with a nice range of products and a strong account opening promotion.
Webull Offers Commission-Free Stock and ETF Trading. Webull is one of a growing number of truly commission-free stock and ETF brokers, from mobile-first platforms like Robinhood to full-service brokerages like TD Ameritrade. Still, commission-free trading positions Webull ahead of brokers that still charge by the trade.
Webull Allows Cryptocurrency Trading. Webull has more than a dozen cryptocurrencies in its inventory, from well-known and highly liquid coins like Bitcoin and Ethereum to lesser-known options. The minimum crypto trade value is just $1.
Webull Has an Excellent Promotion for New Account Holders. Webull's account opening promotion is potentially worth more than $30,000, although most new users realize far less value.
Webull Offers Advanced Analytics and Market Data at No Additional Cost. With the exception of Nasdaq TotalView, which requires a separate subscription, Webull's advanced analytics and charting tools cost users nothing to exploit. Compared with Robinhood, Webull is much more friendly to advanced traders as a result.
Webull Users Can Buy Fractional Stocks, ETFs, and Cryptocurrencies. Webull allows fractional share investing for all users. This is very good news for low-asset investors who can't afford to build truly diversified portfolios with full shares alone.
Webull Offers Full After-Hours Trading (Extended Trading Hours). Webull users have access to both extended trading hours sessions (premarket and after-hours trading). This is an important advantage for day trading professionals whose strategies aren't confined to regular U.S. market hours.
Favorable Options Pricing. Webull is one of the few online brokers that offers truly free options trades. Options traders don't pay contract fees, exercise fees, assignment fees, or options trading commissions with Webull.
---
Disadvantages of Webull
Webull's downsides include a lack of some key asset and account types that could be problematic for more advanced users.
---
Final Word
Webull has a lot going for it. Like other commission-free online brokerages, it charges users virtually nothing to buy and sell securities. It has a very good account opening promotion for new users. And it offers a surprisingly comprehensive lineup of analytics and research tools for users, matching or exceeding competing online brokers' offerings.
Webull does have some notable drawbacks that could give new users pause. Users don't have access to common investment products like bonds and mutual funds, nor to some popular alternative investment options like forex and commodities futures. Webull also has just four available account types, omitting SIMPLE IRAs, SEP IRAs, and 529 college savings plans, among others.
It's up to you to determine whether Webull's advantages outweigh its drawbacks or vice versa. Either way, you'll want to consider it if you're in the market for a new online brokerage.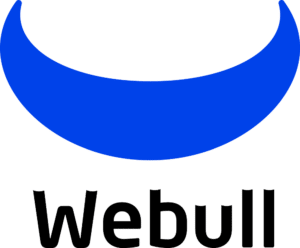 Pros
Commission-free stock and ETF trading
Access to alternative assets, including crypto
Excellent account opening bonus
Cons
No direct bond or mutual fund purchases
Some common account types missing (no 529 plans)
No managed investment option
Editorial Note: The editorial content on this page is not provided by any bank, credit card issuer, airline, or hotel chain, and has not been reviewed, approved, or otherwise endorsed by any of these entities. Opinions expressed here are the author's alone, not those of the bank, credit card issuer, airline, or hotel chain, and have not been reviewed, approved, or otherwise endorsed by any of these entities.